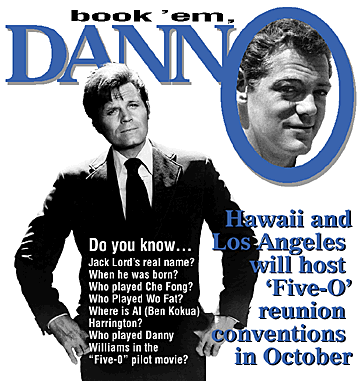 Jack Lord, above left, played Steve McGarrett and James MacArthur, far right, was Danny Williams in television's longest running police drama - Sept. 26, 1968 to April 5, 1980. Hawaii Five-0" continues to run in syndication at noon daily on KFVE. (Answers to the questions are at the end of this article.)

---
Book 'em, Danno
---
Hawaii and Los Angeles will host 'Five-O' reunion conventions in October
By Tim Ryan
Star-Bulletin

Are you a "Five-0" fan? Do you get chicken skin when you hear the show's theme, or when Steve McGarrett snarls "Book 'em Danno!"

Wanna hang for a few days with others of a like affection? Maybe even meet some of the show's co-stars and extras?

You'll get your chances come fall when Honolulu and Los Angeles host "Hawaii Five-0" Reunion Conventions, Oct. 28 to Nov. 3, and Oct. 25 to 27 respectively.

The conventions are the idea of legal secretary and "Five-0" fan Rita D. Ractliffe of Los Angeles.

"It's starting to take on a life of its own," she said in a telephone interview. "There are more than 100 people who have contacted me about attending already, including some from Brazil and England."

Ractliffe said she has contacted several "Five-0" actors and extras to attend, including James MacArthur, who played Danno; Doug Mossman, who played Lt. George Kealoha in the first season and Frank Kamana in the seventh; Kam Fong, who played Chin Ho; and others.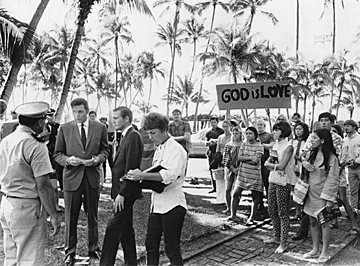 Jack Lord, above left and James MacArthur, to his right, on location.
So far no one has been able to reach the show's star Jack Lord at his beach-front Kahala condominium where he lives with wife, Marie. And Ractliffe doesn't expect he will attend, though she is hoping to get Marie.
"As courteous, adult fans of his work, we ...will respect and honor any decision he makes," she said. "I have his address, but out of respect I have not even mailed anything to him about the convention."
Ractliffe is trying to get permission to display some of Lord's artwork. As for the other actors, Ractliffe said she has received "enthusiastic replies" from several.
"Now that we have our date, we can go ahead and contact everyone we can find that had anything to do with the series. Anyone with personal acquaintanceship of anyone from the show is encouraged to let them know and invite them or have them contact me."
The conventions are dedicated to "Five-0" creator Leonard Freeman and Jack Lord. The Los Angeles event will be held at the Burbank Hilton; the Hawaii location is still being determined.
Two "Fan Guests of Honor" also will attend: Marty Cooper, who for 18 years published articles about the show and Jack Lord's newslet&LTP&GTter about Lord's activities; and Karen Rhodes who in 1990 started publishing the "The Iolani Palace Irregulars" newsletter that contained information about the show, guests stars and favorite episodes. (Rhodes this year will publish the book "Booking Hawaii 5-0," an encyclopedia on the show, Ractliffe said.)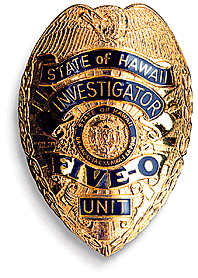 For the Hawaii gathering, several activities have been planned, including a tour of the Honolulu Police Department's main station; meeting several police officers who worked on the show in either security or as actors; visits to various "Five-0" locations; a tour of the "Hawaii Five-0" sound stage at Diamond Head; an "outrageous, awful, oughta-be-burned muumuu or aloha shirt" contest; hula competitions; and a planned banquet.
Ractliffe wants to align the convention with an airline and hotel that can offer the few hundred expected participants some discounted rates in exchange for publicity.
In Hawaii, Doug Mossman, director of sales and marketing for IMAX, said he is helping coordinate the Hawaii convention.
Ractliffe promises "this will be no ordinary convention."
"It will be fun and user friendly ... with our guest actors very accessible to the attendees," she said.
For fans unable to attend, Ractliffe will offer a "supporting" membership that includes a program book, T-shirt, bag and "Five-0" photos.
Ractliffe said she has been a "Five-0" fan since the first show.
"I loved seeing Hawaii, loved the McGarrett character because it reached out and grabbed me and said, 'Hi.' The whole ensemble was such a neat bunch of people and it showed so well the ethnic mix of Hawaii."
"Hawaii Five-O" was the longest continuously running police show in the history of television - Sept. 26, 1968 to April 5, 1980.
---
Answers to trivia questions:
Jack Lord's real name: John Joseph Patrick Ryan

Born: December 30, 1922 (according to records in the Library of Congress)

Che Fong was played by three different actors. In "... And They Painted Daisies on His Coffin," the Chinese forensic scientist is played by an uncredited actor. In "A Bullet for McGarrett," the part is played by Daniel Kamekona. The role was taken over in "Blind Tiger" by Harry Endo.

Wo Fat was played by Khigh Dhieh, who died of liver and heart failure in November 1991 at the age of 81.

Al (Ben Kokua) Harrington is retired and lives in Utah, teaching and counseling students at a university. He has come out of retirement lately to make a couple of movies.

Who played Danny Williams in the "Five-0" pilot movie? The only change in the TV pilot's "Five-0" cast for the series was the Danny Williams character. The movie starred Jack Lord, with Zulu as Kono (who seemed, in th emovie, to be the second-in-command) and Kam Fong as Chin Ho Kelly. Danny Williams was played in the movie by Tim O'Kelley. Apparently, the test audience in New York didn't think he did such a good job, and Leonard Freedman went looking for a new Danny Williams, and settled on James McArthur.
---



For more information, contact Rita D. Ractliffe at 15500 Erwin, #297 Van Nuys, CA 91411 (818) 908-1360 (home/machine), (213) 426-6212 (work.) E-mail is keysr@moe.fcol.com.




---