Headlines by RSS
---
---
To subscribe to an RSS feed
Find an orange

feed icon on this page, on starbulletin.com, or elsewhere on the web. Right-click on the image and copy the URL.
In your news reader, select the option that adds a new feed or channel and paste in the URL. That's it!
Note: If you try to view the URL in a web browser, it may not display properly.
---
What is RSS?
RSS
(or "Really Simple Syndication") is a quicker, easier way to access the content of web sites you visit most often.
By subscribing to
feeds
using a
news reader
or
aggregator
, you can quickly view the latest headlines and summaries of all your favorite web sites, and then with one-click, view the full-length articles.
Feeds are updated periodically throughout the day, so instead of opening a browser to see if a web site has changed or not, the news reader will let you know by highlighting web sites that have new or updated content.
Note: A news reader must be installed on your computer to view and subscribe to RSS feeds. See Google Directory for a list or use a web-based news reader, like Bloglines, Google Reader, My Yahoo!, My AOL or NewsGator.
For more information about RSS, visit Wikipedia.
---
Sample screenshots of RSS news readers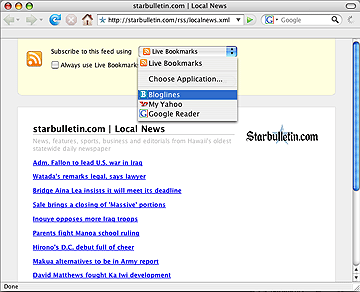 In Mozilla Firefox 2 [Windows/Mac/Linux; free] feeds can be subscribed to: (a) as "live bookmarks," (b) using an external news reader on your computer, like NetNewsWire Lite (see below), or (c) using a web-based news reader like Bloglines, My Yahoo!, or Google Reader.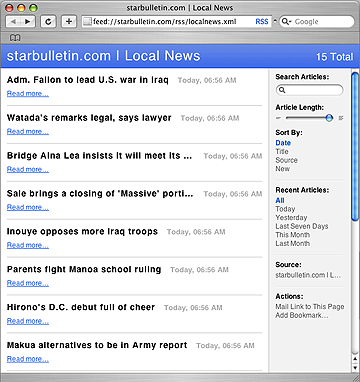 In Apple Safari [Mac OS X; free] feeds can be subscribed to: (a) as toolbar bookmarks, (b) viewed directly in the browser window with numerous sorting options, and (c) e-mailed to others.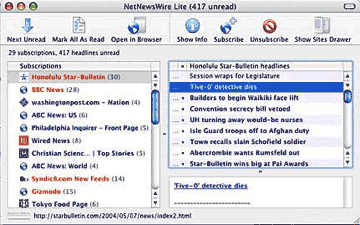 In NetNewsWire Lite [Mac OS X; free], a dedicated news reader, feeds are listed by website in the left pane, headlines from the selected feed are in the upper right pane, and a summary with a clickable link to the full-length article in the lower right pane. (The commercial version has many more features!)