CAMPAIGN 2008
Isle parties put focus on ConCon, victory
Watch for the debate over a constitutional convention and the looming presence of Sen. Barack Obama's presidential race to be two of the big talking points in the local general election.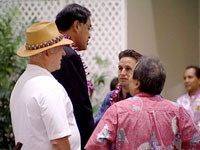 After a long night of waiting for election results, the democratic and republican parties discussed last nights election results.
Both Democrats and Republicans held rallies yesterday to organize their campaigns for the 42-day sprint to Election Day.
"We will use the popularity of Obama as a leading presidential candidate and local boy," says Rep. Marcus Oshiro (D, Wahiawa-Poamoho). "His coattails will help us win from the state House to the school board. He has a powerful wake and it will pull all the guys."
In contrast, Lt. Gov. James "Duke" Aiona told the GOP faithful gathered at their Kapiolani Street headquarters that Democrats would try to draw Hawaii voters into the national campaign.
"Remember, it is entirely different in Hawaii. They are going to try to draw you in. You have to focus on your race. It should only be about you and the people in front of you, nothing else," Aiona counseled.
Aiona, who already is a candidate for governor in 2010, also is using the upcoming vote on a constitutional convention as a reason to energize voters. He has been an early advocate of a convention to re-examine the state Constitution.
The Constitution calls every 10 years for voters to say whether they want to hold another convention to change the state's guiding document. That question will be on the November ballot.
Some Democrats, however, are saying new changes would be risky.
At the Democrats' breakfast meeting at the Ala Moana Hotel yesterday, Senate President Colleen Hanabusa reminded colleagues that the Democratic central committee has already gone on record urging voters to reject a ConCon.
"Let there be no doubt in Democrats' minds that the unions need us to come out to help them," said Hanabusa (D, Nanakuli-Makua), claiming that a ConCon could be used to lessen workers' rights. "Let us ban together and let us look to the higher objective. We have to preserve these rights."
Aiona, at his rally, answered, calling the Democrats "all about the status quo ... people who don't want change."
Democrats are starting to use Gov. Lingle's administration as a point of attack.
"People can't put their finger on anything that Linda Lingle has done," Senate Vice President Donna Kim (D, Kalihi Valley-Halawa) said. "One of her biggest things was Turtle Bay and that has fallen by the wayside."
In this year's State of the State Address, Lingle proposed purchasing the 850-acre Turtle Bay property on Oahu's North Shore, including five miles of pristine coastline, for preservation or controlled development. So far, the plan has gained no traction.
"She hasn't brought people together and she has made it very divisive," Kim said.
Rep. Gene Ward disagreed yesterday, saying Lingle is leading the state in innovation.
"She is backing a human resource rather than a speculative land-based economy," said Ward (R, Kalama Valley-Hawaii Kai).
Ward added that the future of the local GOP is closely tied to the success of Aiona and if he can use this campaign season effectively, it will help his 2010 campaign for governor.