CAMPAIGN 2008
Races on, gloves off: Offices hang in the balance
Hannemann prepares an aggressive campaign to demand accountability going forward
STORY SUMMARY
|
READ THE FULL STORY
A moribund primary election that saw record-low turnout gives way today to a more energized fall campaign, with three mano-a-mano matchups for mayor and a host of potential smack-downs in the Legislature.
Honolulu Mayor Mufi Hannemann vowed to take the gloves off yesterday in his runoff against City Councilwoman Ann Kobayashi, who has accused him of bullying.
"The general feeling is that we tried to maintain the high road and we paid a price for it," said Keith Rollman, Hannemann's campaign media adviser, after Hannemann failed Saturday to win the mayor's race outright.
"We felt there was a potential of a backlash if he went negative -- then he becomes the bully that he's accused of being."
On the Big Island, Billy Kenoi, a former aide to outgoing Mayor Harry Kim, will face County Councilman Angel Pilago after state Sen. Lorraine Inouye, a former mayor, came in third in the primary.
And on Kauai, former Mayor JoAnn Yukimura, a member of the County Council, is in a runoff with former Miami Dolphins lineman Bernard Carvalho, who outpolled her 40 to 30 percent.
In the Legislature, seven of 12 Senate seats in play will be decided Nov. 4. And in House District 51, Lanikai-Waimanalo, observers are watching the race pitting newcomer Chris Lee against well-funded former House Republican leader Quentin Kawananakoa.
STAR-BULLETIN
---
---
FULL STORY »
Mayor Mufi Hannemann says he will start more forcefully confronting City Councilwoman Ann Kobayashi on attacks directed at his record and leadership style as the two head into what is likely a more contentious race toward the November general election.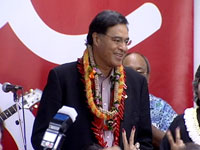 Mayoral candidate Mufi Hannemann dominated during the primary election but came short of the 50% plus one results.
Hannemann's remarks came a day after he failed to win re-election outright in Saturday's primary election by falling just short of the majority needed to end the race. Hannemann received 49.4 percent of the votes cast for mayor, while Kobayashi garnered 30.16 percent.
"I'm going to hold her accountable to every statement she made in the primary," Hannemann said yesterday. "This will be a very focused one-on-one comparison against Ann Kobayashi. She did a lot to distort my record and those things will change because I will be able to rebut them directly."
Hannemann blames voter turnout, at a low of 37 percent of registered Oahu voters, for the reason he was unable to secure an outright win. Hannemann expected a larger turnout from his stronger support areas, such as the Leeward Coast, but had anticipated his opponents to get more votes from the Windward side and East Honolulu.
Hannemann mostly refrained from his usual aggressiveness while campaigning for the primary election. Kobayashi has lodged attacks at Hannemann's leadership style, which she described as "bullying," and his handling of the most contentious issue, his proposed $4 billion rail transit system.
But Hannemann and campaign aides say that will change in the six weeks left until the Nov. 4 general election.
"The general feeling is that we tried to maintain the high road and we paid a price for it," said Keith Rollman, Hannemann's campaign media adviser. "We felt there was a potential of a backlash if he went negative -- then he becomes the bully that he's accused of being."
Hannemann has questioned Kobayashi's entrance into the race on the last day of the candidate filing deadline, causing a flurry of confusion that allowed a former opponent, Duke Bainum, to fill Kobayashi's City Council seat in an uncontested race. Just a few days before the primary election, Bainum wrote a letter to supporters telling them to vote for anyone but Hannemann.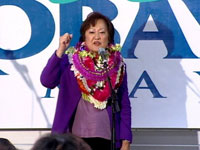 With Panos Prevedouros out of the mayoral race, Ann Kobayahshi heads to the general elections against incumbent Mufi Hannemann.
"Mayor Hannemann has a history of spreading untruths," Bainum's letter said. "In just a few days, you will have the opportunity to choose our next mayor. Please, just say NO to Mufi Hannemann."
"There's no way you're going to convince me that Bainum and Kobayashi did not strike some sort of deal," Hannemann said. "Why is it that Ann promises an open and honest government when she hasn't been open and honest about her entrance into the race? Those are the things that will come under greater scrutiny."
Hannemann has the campaign funds -- totaling more than $1.8 million -- to launch aggressive advertisements quickly versus Kobayashi's balance of $126,000.
"Now, any time a bit of misinformation is thrown out there, we're going to hammer it back into the woodwork," Rollman said. "We're going to use our own media ability. There won't be any more of this nonsense going out."
Meanwhile, Kobayashi needs more campaign contributions to prepare for a more combative race with Hannemann.
"I think we're going to keep reaching out to people, keep building our grass-roots effort, because that has proven to work so far," Kobayashi said.
Hannemann and Kobayashi both said they would agree to appear in a debate. The campaign leading up to the primary election had focused on the elevated rail transit system, for which Kobayashi favors a rubber-tire system, while Hannemann is moving forward on a steel rail system. But the candidates began focusing on other issues, such as the island's infrastructure problems, the landfill and the economic downturn after Wall Street's recent implosion.
State Senate President Colleen Hanabusa said Kobayashi, who once led the City Council Budget Committee, needs to start distinguishing herself more from Hannemann.
"What Ann is going to have to convince the voters about is that she truly is the better manager for the City and County of Honolulu," said Hanabusa, a Kobayashi ally. "Now is the time to talk about the economic issues. With her experience in budget, she has to tell the people that she can truly prioritize government."
Kobayashi will also likely try to attract supporters of Panos Prevedouros, a University of Hawaii at Manoa engineering professor who dropped out of the mayoral race Saturday night after receiving 17 percent of the votes in the primary.
Prevedouros' main support base came from the anti-rail faction in Honolulu, particularly among the older voters. On the campaign trail, Kobayashi was supportive of Prevedouros, who said yesterday he has no plans to endorse her.
"I like Ann very much, but we have a significant disagreement when it comes to the fixed guideway project," Prevedouros said. "I suspect in the future we will be talking."