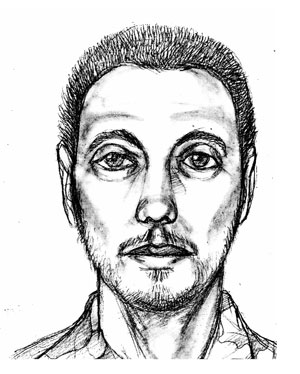 UH beefs up security
Two robberies near campus have students and park users afraid
The robbery of two young men by a man armed with an "Uzi"-type weapon at a park near the University of Hawaii has evoked fear among some students and park users, with many now avoiding the neighborhood at night.
Armed Robbery
Two young men say they were robbed by a man, sketched at left, armed with an automatic weapon while they were at Kanewai park on Monday near UH
"It pretty much scares me," said Sarah Joslyn, 20, a University of Hawaii junior who lives in the Manoa campus dormitories. "They were supposed to tighten security, but it makes me think they didn't."
Two men, ages 19 and 20, reported being robbed while sitting on a bench at Kanewai Park, which is open until 10 p.m., by a man apparently armed with an automatic weapon. The robber fled on foot with cash, police said.
That robbery occurred at 9:35 p.m. Monday - 20 minutes after an attempted robbery in the same area. In that case, a man demanded money of a 42-year-old man but fled empty-handed.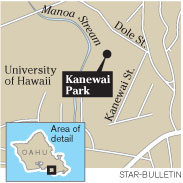 UH-Manoa campus security alerted students, faculty and staff by e-mail Wednesday and urged them to be aware of their surroundings.
"It's good to see UH has stepped up security," said UH-Manoa staff member David Kimball, 46, whose daughter, a fourth-grader, walks from Hokulani School to the Kanewai swimming pool.
Joslyn, like many other students, parks at the Hawaiian Studies parking garage next to Kanewai Park and walks to the dormitories.
"I used to walk back and forth not thinking about it," said Joslyn, who was with her boyfriend, Keola Ibara. Now, she said, "I make him walk with me or drop me off."
Said Ibara: "It could have happened to us. For foot traffic, it's not that late. It's prime time for people going out."
Also at the park yesterday was Yu Suenaga, 20, a UH-Manoa student who lives in the dorms. "I used to play basketball a lot, but now, with that armed robbery, I don't come here as much," he said.
Suenaga added that he no longer walks alone in the area at night, but often sees kids as young as 10 playing basketball there late.
"There should be more security, especially with the kids that play here at night," he said.
Parents at the park yesterday said they are concerned for their children and never allow them out of their sight.
"They never catch him yet?" asked Miriam Santiago, 46. "That's scary."
She and her husband bring their son, age 4, and grandchildren, 2 and 8, to the park every weekend but never at night. "None of the parks are safe anymore because of the drugs," she said. "It's crippling the younger generation."
Tony Kim, 40, said he learned of the robbery when his daughter came home from Hokulani School with a flier warning parents not to allow their children visit the park unattended.
The suspect in the Kanewai Park robbery is described as 20 to 30 years old, 6 feet tall, about 180 to 200 pounds, with short black hair, a mustache and a scruffy beard. He was wearing a green Army camouflage jacket with "Liloa" on the name tag and dark long pants.
On Aug. 31, a UH student was robbed outside Burns Hall on East-West Road by two males in their 20s who fled in a white Toyota sedan toward Dole Street.
Be on guard
Safety measures for foot traffic around UH-Manoa:
Security Tips
While walking, jogging or running:

» Avoid going alone. Avoid dark, vacant or deserted areas. Call campus security (956-6911) to request an escort on campus during evening hours.

» Avoid wearing headsets that impair your ability to detect and respond to dangerous situations.

» Carry a noise-making device and cell phone to summon help.

» If you're being followed, cross the street or change directions; keep looking back and get a good description of the person. If you're still being followed, go to the nearest house or business and call police. If on campus, activate a blue-light emergency phone or call campus security.
If confronted
» Go with your instincts, but be realistic about your ability to fight off someone; your instinct might be to run, scream, kick, hit or bite.

» If a weapon is displayed, don't resist.

» Your goal should be to escape safely and survive; cooperate if you think that resisting might lead to further harm.

» Try to remember as many details as possible about the description of the suspect or a vehicle.

Source: University of Hawaii at Manoa Campus Security

Anyone with information on these crimes is asked to call CrimeStoppers at 955-8300 or *CRIME on a cell phone.