| | |
| --- | --- |
| | What the Heck? |
---
Whole Foods' $100 Wham, Bam, It's Not Spam! contest
Would you like a $100 gift certificate to the new Whole Foods store in Kahala Mall?
The Whole Foods folks have tried to be sensitive to local tastes, including our inexplicable craving for SPAM. However, a store that sells cage-free eggs and organic baby food can't be stocking canned SPAM.
Instead, the Whole Fooders made their own, using naturally raised pork, promising no hormones, antibiotics or preservatives. To get what Whole Foods' Claire Sullivan calls "that lovely pink color," they added beet juice.
For fear of Hormel's legal team, they can't call it SPAM. Temporarily, they've dubbed it Hawaii Style Ham. Not a catchy name, and, besides, it brings to mind that '50s mainland favorite, canned ham with canned pineapple slices.
SO PAY ATTENTION. THIS IS THE PART WHERE YOU WIN. Whole Foods is having a contest to find a new and improved name for its lovely pink product (announced only here and in the store, so you have a good shot at winning).
Drop off your entry at customer service in the Kahala store or e-mail it to spkmo-marketing@wholefoods.com. Deadline: Oct. 4.
Winner gets the $100 gift certificate - which, if you're curious, would buy about 9 pounds of the Whole Foods-style SPAM. I wouldn't buy all 9 pounds at once, though, because it won't last indefinitely on your shelf like the canned version.
Makana: Local Guitar Hero
Last weekend in San Francisco, Guitar Player Magazine held its Guitar Superstar Competition. Out of hundreds of aspiring guitarists, there were 10 finalists, judged live by such guitar legends as Joe Satriani and Steve Vai, hosted by Andy Summers of the Police.
Eight of those 10 finalists were electric guitarists, backed by bands. Of the two solo acoustic guitarists, one won, Vicki Genfan of New Jersey. The other was Hawaii's own Makana, second runner-up, whom the San Francisco Chronicle called "a minor marvel."
In the midst of a medley, Makana changed tunings on the fly, slacking his bass string as he played. "That's a great idea, I might steal it," said Satriani. "If you figure out how to steal it, I'll steal it from you," said Vai.
Uncle Led Gets His Axe Back
Speaking of guitarists. There was an outburst of publicity that slack-key master Ledward Kaapana had his guitar ripped off - on his 60th birthday, from his car in the parking lot of Like Like Drive Inn.
Led has his guitar back. There are stories circulating about how it turned up for sale in Waianae. I asked Led, who'd only tell me he paid an unidentified party $200 for its return.
Asked what he was eating at Likelike when his guitar was lifted. A big explosion of rich Led laughter. "The rib-eye steak," he said. "It was good." More laughter. "Everything's good now."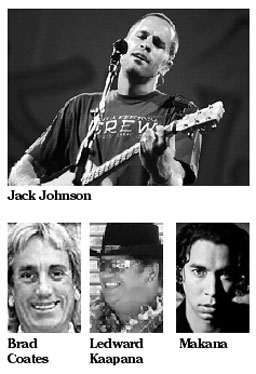 Try Stay Married
Attorney Brad Coates wrote the book on divorce in Hawaii - three times. Coates - whose firm, Coates & Frey, handles 1,000 of the roughly 5,000 Hawaii divorces each year - has just released the third edition of his "Divorce with Decency."
Anything new, divorce-wise? Coates has been lecturing on cruise ships. "They all wanted a more positive spin, sort of a divorce lawyer's advice on improving your relationship," he says. "I incorporated that material into the book."
Coates, for the record, has been married 15 years next month to real estate broker Sachi Braden.
Drummer Unleashed
"There's nothing more boring than a drum clinic," says Von Baron. So why's the ace jazz drummer giving one on Tuesday evening at Easy Music Center?
"I don't just sit there behind the drums and show off," he says. "I want people involved, not impressed."
Von Baron sings, dances, cavorts on stage, pulls in the audience. "They probably think I'm a nutball," he suggests. Yeah, but an entertaining one, which you can see for yourself if you watch the YouTube clip of his last clinic.
Sergio Always Loved a Party
Aerialist Andrea Torres, who makes her living descending from great heights on silk ropes, is the ex-wife of late and much-lamented photographer Sergio Goes - and mother of his 4-year-old son, Gabriel.
Torres would like to thank the 300 to 400 people who showed at the fundraiser for Gabriel last Sunday at Aloha Tower. "Good food, good music," she says. "It turned into a good dancing party. Sergio would like it, he would."
If you missed the fundraiser, you can still contribute to the Gabriel Kapuni Goes Irrevocable Trust, 1260 St. Louis Drive, 96816.
Who's Green and Kisses?
Thursday a trio of magazines - Hawaii Home+Remodeling, Honolulu and Hawaii Business - threw a glittering banquet for their second annual "Who's Keeping Hawaii Green Awards."
It was held under a clear tent at Moanalua Gardens, so you could see the trees illuminated above. The tent was a precaution. Last year the environment refused to cooperate, and the participants got rained on.
At the affair, everything possible was locally sourced, reused, recycled. The valet parking fee went to buy carbon offsets for all the cars that drove there. Even the martinis were organic.
In decades, I've never seen veteran broadcaster (and now HECO spokeswoman) Jade Moon flustered. As emcee, she handed out 18 awards, including one for Green Celebrity, to a newly bearded Jack Johnson.
Johnson kissed publisher Terry Rollman, who beamed as she handed him his award, and returned the buss of editor Jenny de Jesus, who gave him a lei.
Then he bounded all the way across the stage to kiss Moon, who was still reading the awards presentation. She stopped, speechless, tried to continue, squeaked a little. Finally, pro that she is, she managed to get back on script, commending Johnson for his good green works, if not the fact that he knocks the ladies out.