Battalion honors slain Marines
About 900 members salute three men killed in Iraq who "chose service and sacrifice"
Fellow warriors paid tribute yesterday to the selflessness, dedication and leadership of three Kaneohe Marines who were killed in a bombing in Iraq.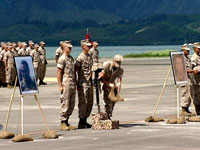 Three months after being killed by a suicide bomber in Iraq fellow marines remember their fallen comrades as heroes.
"Instead of self-interest and profit, they chose service and sacrifice. They chose the most difficult path because of who they were. To them, there was no other choice," said Lt. Col. Patrick Cashman during a memorial service at Kaneohe Marine Corps Base Hawaii. "They died for us and that's a debt we can never repay to you or to them," Cashman said to the attendees who included about 12 family members of the fallen Marines.
Almost 900 members of the 2nd Island Warrior Battalion, 3rd Marine Regiment paid their respects to Lt. Col. Max A. Galeai, 42, of American Samoa; Capt. Philip J. Dykeman, 38, of New York; and Cpl. Marcus W. Preudhomme, 23, of Florida, who died in June.
On June 26, a suicide bomber dressed as a security officer detonated an explosive belt, killing more than 20 people, including the three Marines. Two other Kaneohe Marines, Sgt. Keith Buckmon and Sgt. Maj. Patrick Wilkinson, suffered major injuries from the bombing. All were meeting with tribal and government leaders in a courtyard in Karmah at the time.
Yesterday's memorial gave the battalion a chance to tell families of the fallen Marines how much the three men meant to them.
Each Marine's helmet, boots, rifle and dog tags were displayed during the service along with three large framed photos draped in lei.
The battalion served a seven-month deployment in Iraq from February to August. During their deployment, the battalion conducted more than $10 million in repairs for schools, medical clinics and other projects. They also helped train more than 500 Iraqi Security Forces.
During the service, Cashman described Galeai, the battalion's commanding officer, as an exceptional leader. "He made us better men. He made us better Marines," Cashman said. "While he didn't come home with us, he is the one who got us here."
Still torn by Galeai's death, his older sister, Lina Galeai Scanlan, said the battalion's safe return to Hawaii had been his main concern. After the ceremony ended, Galeai's mother, Kalala Galeai, brushed her fingers against the displayed photo of her son before she kissed it.
First Sgt. Dillon Goldman said Dykeman, known as "Capt. Phil," was a good friend. "He was the kind of friend that I could confide in at anytime and I could rely on at anytime and so can any Marine that knew him," said Goldman. Following Dykeman's death, a school in Iraq was renamed Capt. Phil Primary School in his memory.
Cpl. Javier Mendez regarded Preudhomme as a brother. "Cpl. Preudhomme was a unique Marine with character and will, a strong leader who never backed down from anything," Mendez said.
"He was a free spirit," he said, adding that the young Marine enjoyed hanging out with his friends with a chilled Corona beer. "He lived for the party life," Mendez said.