The "Green Hawai'i" guide lays out easy-to-follow steps that will save homeowners money as they conserve energy
Kermit the Frog was wrong.
It IS easy being green.
OK, maybe not living with green skin, but having an energy-efficient home and lifestyle.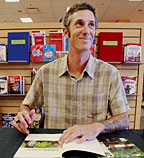 Meet the Author
Kevin Whitton will appear at these book signings:
» Tomorrow: 3 p.m., Kahala Mall, Center Court. Reading followed by book signing.
» Sunday: Noon, Borders Waikele
» Sept. 27: 2 p.m., Borders Ward Center
Kevin Whitton's "Green Hawai'i: A Guide to a Sustainable and Energy Efficient Home" offers a number of suggestions to help the planet and the pocketbook. Here are five, ranging from recycling to community service.
Going green leaves more green in your wallet: Yeah, yeah, we know this already. We know that having a solar hot-water system saves on water-heating costs, and installing a system leads to a tax break. But did you know you can get $40 back when installing an ENERGY STAR-rated ceiling fan? Check out www.heco.com for rebates and other energy-saving coupons.
Fish waste makes good plant food: My grandmother used to tell me not to throw away the soapy dishwater or the dirty water from washing rice. She said using the soapy water to water house plants keeps white flies away and that rice water is good for the plants. Whitton writes that water from fish tanks is good for plants, too. "The nitrogen and phosphorus in the water from the fish waste will be a nutritious meal for your greenery," Whitton writes. "If you don't have house plants, use the water outside in the garden."
Plug that leak: Whitton writes that one of the main water users in the home is the toilet. To check for a leak, put 10 drops of food coloring in the toilet tank. Wait 15 minutes. If colored water seeps into the bowl, there's a leak. The Honolulu Board of Water Supply has extended its "Ultra-Low Flush Toilet Rebate Program" offering $100 back to those who buy new toilets, but it's a limited offer, so act fast. Visit www.boardofwatersupply.com.
Cooling off begins at the top: Ray Heitzman, an independent solar contractor whom Whitton quotes, says an attic can heat up from 125 to 155 degrees during the course of the day, depending on where you live. Whitton writes, "That radiated heat is like an oven on top of your head, radiating down right through the drywall and into your living area. When you get an attic fan it's like popping a champagne cork because you have an immediate cooling effect. Within 15 minutes you'll feel the difference." A $900 solar attic fan, he notes, costs less than $400 once you file for a 30 percent federal tax credit and a 35 percent state tax credit.
Your trash, someone else's treasure: Re-use Hawaii, a nonprofit organization, takes certain types of unused/leftover building materials, and sells them. Its Web site, www.reusehawaii.org, recently offered 20,000 square feet of maple tongue-and-groove flooring (originally used as gym flooring at Punahou School). It sold out quickly, but doors, lighting fixtures and lumber remain available. If you've just remodeled your home and have equipment that you no longer need or don't have room to store (wheelbarrows, tools, drills, etc.), you can pass them on for others to use. Check the site for the types of material accepted. Profits go to sustaining the organization; all donations are tax deductible.