| | |
| --- | --- |
| | Island Mele |
---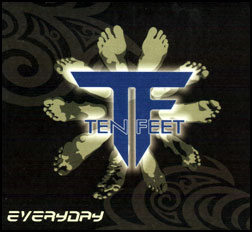 "Everyday"
Ten Feet
(Ohana)
Ten Feet has been a significant part of the Jawaiian music scene for more than a decade, but this latest endeavor reveals a few new facets to the group. "Everyday" introduces Jon Irei on bass, and some fresh ideas as well. The first two songs show that Ten Feet is as committed as ever to reggae-style rhythms and that co-founder Josiah Kekoa has kept up his chops as a songwriter. Other pieces find the quintet successfully exploring other genres.
The group switches to smooth mainstream pop with "Back Home," a Kekoa composition that describes feeling homesick for Hawaii. "Little Things" evokes memories of Arrested Development with a cautionary tale of a drug-addled derelict, while the title song is a soulful light-rock theme for lucky couples everywhere.
"Best Friend" displays yet another side of Kekoa's work as he explores the conundrum of being attracted to your best friend's sibling.
A formula Jawaiian remake of "Something" adds nothing of interest to the Beatles' original version, but adding a bit of Culture Club to "Heartaches & Heartbreaks" somehow gives that Hawaii-only hit a fresh feel.
---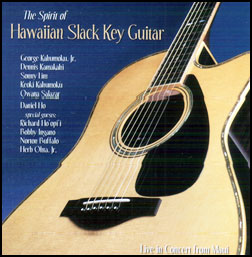 "The Spirit of Hawaiian Slack Key Guitar"
Various artists
(Daniel Ho Creations)
Daniel Ho's slack-key compilations have won Grammy Awards three years straight. That makes this one an instant contender for 2009. And, to give credit where it's due, it is a better showcase for Hawaiian music than some of its predecessors.
Yes, it includes several artists who don't play slack key and others who are years away from becoming "legends" or "treasures" of the genre. On the other hand, there's always historical significance in Dennis Kamakahi's latest recording of "Wahine 'Ilikea," and George Kahumoku Jr. truly is a slack-key master.
Given the long-standing hapa-haole history of "The Hawaiian War Chant," Kahumoku's duet with Norton Buffalo isn't that big a stretch either.
Co-producer Paul Konwiser also upgrades the project with information on the songs, the performers and the guitarists' slack-key tunings.
---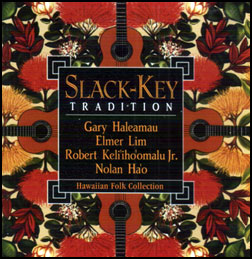 "Slack Key Traditions"
Various artists
(HanaOla)
HanaOla Records president Michael Cord has made an important contribution to the Hawaii record industry by reissuing the long out-of-print catalogs of old-time island record labels such as 49th State Hawaii and Bell. He moves into new but equally interesting territory with this reissue of a compilation album released relatively recently on producer John Keoni Fujitani's Big Island-based Liko Records label.
Liko was one of the major neighbor-island labels of the 1990s. This album is a good example of the high quality of Fujitani's work.
The album consists of instrumentals by four Big Island residents: Gary Haleamau, Noland Ha'o, Robert Keli'ho'omalu Jr. and Elmer "Sonny" Lim Jr. Haleamau, who was one of Fujitani's top acts in the 1990s -- a fine vocalist as well as guitarist. Ha'o was a member of Ho'aikane before the group switched from ki ho'alu to Jawaiian. Lim has gone from being a member of the Lim Family to a stellar solo artist.
Fujitani's annotation completes the package with biographical and cultural information.
John Berger
, who has covered the local entertainment scene since 1972, writes reviews of recordings produced by Hawaii artists. See the Star-Bulletin's Today section on Fridays for the latest reviews. Reach John Berger at
jberger@starbulletin.com
.