---
ENTER TO WIN
Contest seeking man's best-dressed friend
A dog in a hat can be a handsome creature - a dog in a head-to-toe costume can be a real show-stopper. Is your canine a fashion plate? Or is he at least willing to stand still while you turn him into your idea of a dapper doggie?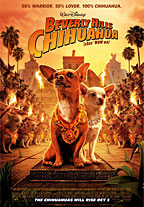 Show us.
To mark the opening of "Beverly Hills Chihuahua" on Oct. 3, the Star-Bulletin, Disney and Ohana Doggie Day Care & Spa are sponsoring a search for Hawaii's Best-Dressed Pooch.
All winners will receive a "Beverly Hills Chihuahua" doggie T-shirt. First prize also includes six VIP seats at the advance screening of the movie (Oct. 1 at Ward Theaters) and three days of doggie day care (plus a free evaluation). Second prize is four tickets to the screening and three days of day care; third prize is two tickets and a day of day care.
To enter, send a photo of your dog in his or her best duds to Hawaii's Best-Dressed Pooch, Honolulu Star-Bulletin Features section, 7 Waterfront Plaza, Suite 210, Honolulu 96813. Or e-mail a jpeg to chihuahua@starbulletin.com.
All entries must be received by midnight Sept. 26. Winning photographs will be published that week. Judges' decisions are final.
HOME & GARDEN
Renovation sale at INspiration
If you're looking for a good deal on modern furniture, head over to Pearlridge INspiration this weekend. The store is having a makeover sale, hoping to clear the floor before closing Sept. 28 for renovation. A grand reopening is planned Oct. 18. Renovation sale prices are in effect for the Pearlridge location only. Call 484-0245.
Free plant sale at Foster Gardens
Foster Botanical Garden is holding a fall plant sale from 9 a.m. to 2 p.m. Oct. 4.
Sponsored by the Friends of Honolulu Botanical Gardens, the sale will offer a large selection of rare and unusual indoor and outdoor plants, as well as ceramics, and educational displays to take in.
Admission is free.
Call 537-1708.