Syngenta buys Kunia land for $14M
The company plans to add workers and expand corn and soybean research
Syngenta Hawaii LLC, part of a $9.2 billion global agricultural firm, has purchased 848 acres of land in Kunia for $14 million to expand its corn and soybean research operations in the islands.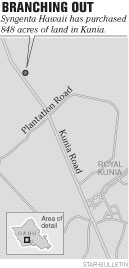 The company, part of Switzerland-based Syngenta Inc., acquired the land from James Campbell Co. LLC and expects to hire more than 100 full-time workers over the next few months, said Ray Riley, who oversees Syngenta's research and development of corn and soy. It has more than 300 workers locally, including third-party contractors, at facilities on Oahu and Kauai.
"The key thing driving increased activity in Hawaii is taking advantage of emerging new genetic information, research and product development effective in increasing agricultural activity," he said.
The company operates an existing facility on leased land adjacent to the newly purchased parcels and is currently developing the 848 acres for genetic research and seed production focusing on corn hybrids and soybean varieties used in the U.S. and overseas.
Syngenta doesn't develop direct-to-consumer products, but focuses on breeding better seeds to help farmers and feed companies increase crop productivity.
An estimated two-thirds of the land will be used for farming, while the remainder will remain as open space and for preservation of native Hawaiian plants, the company said.
The land acquisition, which closed on Sept. 3, brings the total acreage for Syngenta's research and parent seed operations to more than 4,800 acres. The company will be investing tens of millions of dollars in capital improvements over the next several years, Riley said.
Syngenta, launched in 2001 when AstraZeneca and Novartis merged agribusinesses, has operations in vegetables, flowers and other crops.
Hawaii's seed crop industry is valued at a record $146.3 million for the 2007 and 2008 season, up 42 percent from the year-earlier period, according to the National Agriculture Statistics Service.