Jobless rate in Hawaii hits 4.2%
The seasonally adjusted unemployment rate in Hawaii inched up to 4.2 percent in August, just a 0.3 percentage-point increase over July, but 1.5 percentage points more than August 2007, according to the latest statistics from the state Department of Labor and Industrial Relations.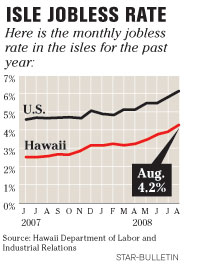 For August, Hawaii's labor force totaled 664,150, with 28,100 unemployed.
The national unemployment rate was at 6.1 percent in August, up from 5.7 percent in July.
Among the isles, Molokai fared the worst, with an unemployment rate of 13.7 percent in August, up from 11.9 percent in July and 6.3 percent in August 2007.
Hawaii County's unemployment rate of 6.1 percent was higher than the state's, and even with the national unemployment rate.
A total of 400 job losses were recorded in trade, transportation and utilities between July and August, partially from an additional reduction of staff after NCL America cut its Hawaii-based fleet from three ships to one.
Compared to August 2007, the total year-over job loss toll for the category was 2,800.
The state, however, recorded month-over job gains in the private sector for construction, leisure and hospitality, and educational and health services.