City scrambling in scrap flap
Three 7-ton engines should have been put up for auction instead of being hauled away
The city improperly allowed three 7-ton engines to be hauled from the Sand Island Wastewater Treatment Center on Thursday as scrap and failed to put up the items for auction as required by law.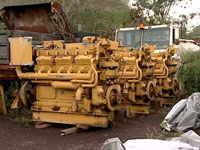 They were taken from the city's largest sewage treatment plant in broad daylight and the city wants them back.
The city is asking the individual who took possession of the engines to bring them back, said Markus Owens, spokesman for the city Department of Environmental Services, which oversees the treatment facility.
When the items are returned, the city will put them up for auction, he said.
But a city worker who asked not to be named said he was simply following procedures to have the engines scrapped.
"We followed basically what we normally would do and issues just got blown out of proportion," said the wastewater treatment worker. "We get rid of a lot of old equipment. ... It's not the first. We handled it like we normally do. ... All the rules was followed."
The 30-year city worker said the instructions to scrap the equipment and who to contact came down from city Budget and Fiscal Services as it normally does.
Owens said it is unlikely that any disciplinary action will be taken against employees.
The engines were used as backups to pump effluent during peak flows at the wastewater treatment center.
The director will likely reiterate and emphasize proper procedures for any material entering and leaving the treatment facility, even if it is "deemed dumped material," Owens said.
Carroll Cox of Enviro-Watch, who made the issue public, said, "Workers on the inside are concerned metals, equipment and parts are being sold without being documented."
Cox said the issues are that taxpayer dollars are being wasted and that the city has major accounting problems in that department.
"We don't care what they do with them once we scrap them," Owens said. The Budget and Fiscal Services found the 35-year-old engines have no value, cost too much to refurbish and are obsolete.
The 68-year-old man who arranged for the metal to be hauled away said he won't release the engines until the city reimburses him the $1,000-plus cost of hauling the nearly 21 tons of cast steel.
He said he acts as a scrap metal consultant, got a call from the Sand Island worker, and called the salvage yard, Leeward Auto Recyclers, to pick up the engines. He retired May 31 from Schnitzer Steel of Hawaii.
The consultant estimated he would have to pay the city about $90 per ton or about $1,890 total.
He would sell the metal to a wholesaler for about $210 to $215 a ton, and figured he would net $60 to $80 a ton.