MAYORal race: FINAL PUSH
OF CAMPAIGN ADS
Mayor's rivals convey message of change
Underdog candidates power on to primary
STORY SUMMARY »
The two mayoral candidates attempting to unseat Mayor Mufi Hannemann are painting themselves as the candidates for change as they head into the final days before the primary election Saturday.
Supporters of City Councilwoman Ann Kobayashi, Hannemann's best-known opponent, say she needs to take a firm stance against the mayor and outline the differences between the two.
University of Hawaii at Manoa engineering professor Panos Prevedouros is experiencing an influx of donations and support after last week's contentious mayoral debate and may make one last attempt to shed his image as a one-issue candidate.
---
FULL STORY »
The three front-runners for mayor are making their final push for votes before the Saturday primary election, with City Councilwoman Ann Kobayashi and University of Hawaii professor Panos Prevedouros trying to prevent Mayor Mufi Hannemann from winning the race outright.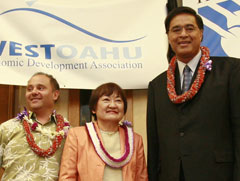 The mayoral candidates appeared in a Sept. 4 forum in Waipahu.
Hannemann has been the most visible in the campaign, with more advertisements and funds and with two challengers having entered the race in late July, leaving them little time to campaign.
"Ann's campaign is the classic David versus Goliath situation," said state Senate President Colleen Hanabusa, a Kobayashi ally. "It's not only her. It's also Panos. Both of their campaigns are clearly underfunded in relation to what Hannemann has and in terms of structure."
Hannemann and Kobayashi will release last-minute advertisements this week, but will likely take different approaches. Hannemann will "stay the course," his aides say. In an advertisement that began running yesterday, Hannemann made his first appearance, speaking to the camera, and ended with a voice-over of him singing, "I Fell in Love with Honolulu."
City Councilman Donovan Dela Cruz, campaign manager for Kobayashi, said they will likely launch another ad but declined to discuss details. The campaign has remained mostly cordial, aside from a combative televised debate last week, but some Kobayashi supporters say it's time she outlines the difference between her and Hannemann with a firmer tone.
"I've always said this is about being a woman in politics, that it's a fine line you have to draw," Hanabusa said. "You need to show people that you're able to make the tough decisions and you can stand by the decision you made. I think that people have doubted that before. What Ann did in the debate was to come out and be forceful."
From the onset of the debate, Kobayashi called Hannemann a "bully" and criticized his leadership style - the biggest issue she takes with Hannemann's four years as mayor.
Hannemann called Kobayashi's performance in the debate "uncharacteristic."
"It's a sign of a desperate campaign that's behind," Hannemann said last week.
The Prevedouros campaign experienced an influx of interest and donations, said state Sen. Sam Slom. Prevedouros, a University of Hawaii engineering professor and a staunch critic of Hannemann's proposed $4 billion rail transit system, is trying to shed his image of a one-issue candidate to one as the first-time politician to change Honolulu.
"I think the key to what happens Saturday is the voter turnout," Slom said. "The larger the turnout, the more beneficial it would be for Panos. We are very confident that after the smoke clears on Saturday, Panos will be in the top two." If no candidate gets a majority, the top two vote-getters will go on to the general election.
The campaigns have been sign-waving, primarily in neighborhoods where support might be weak. Kobayashi has strong support in Manoa, her district, but has also targeted West Oahu. Kobayashi and Prevedouros supporters said they believe they have a strong base on the Windward side because residents there won't benefit directly from Hannemann's planned rail system.
Over the last two weeks, the mayoral race took a nasty turn with accusations of stolen campaign signs and widespread e-mails circulating to city employees, private businesses and the news media.