A Fish Tale
Sushi's beginnings liein stinky rice and cheesy fish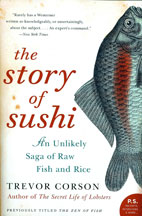 In Hawaii, we think we know sushi. Grandma gave us our first taste of makizushi (with canned tuna in the center) when we were mere babes, so we know our rolls from our cones from our whatever you call those little log-shaped ones, thank you very much.
But really - we know nothing. Trevor Corson proves this with "The Story of Sushi: An Unlikely Saga of Raw Fish and Rice" (Harper Perennial, $14.95).
A New Yorker who speaks fluent Japanese and has immersed himself in Asian studies, Corson presents a fascinating account that couples culinary history with a contemporary tale of sushi chefs in training. Read it and you'll say, "I didn't know that!" about 25 times.
To start, betcha didn't know these seven bits of history among the many presented in Corson's book:
1. Origins found outside japan
Sushi's roots lie not in Japan, but in the landlocked region of what is now southern China, Laos and northern Thailand, as a method of preserving fish. Historians aren't sure of the time frame, only that rice cultivation in that region began around 3500 B.C.
2. Moldy, sour and decayed
About the author
Trevor Corson studied Asian religions and Chinese and Japanese language, plus worked as a commercial fisherman, before publishing his first book, "The Secret Life of Lobsters" (HarperCollins, 2004). He returned to things Asian with last year's "The Zen of Fish," retitled "The Story of Sushi" when reissued recently in paperback.

Along with his writing, Corson has a side career as a "sushi concierge," hosting sushi-themed outings and parties for corporations and individuals. He also serves as a judge on the Food Network's "Iron Chef America." His books are widely available in bookstores or through online sources. Visit www.storyofsushi.com.
To keep fresh fish edible for long periods, a whole, gutted fish would be packed in cooked rice and sealed in a jar. As the rice decayed, mold would develop, digesting the carbs in the rice and turning them into sugars. The sugars, in turn, would be eaten by yeasts, creating alcohol, and benign bacteria, creating acid - both of which are preservatives. The rice would get quite disgusting and was thrown away, but the fish inside could keep up to a year - "today it would strike us as a bit like a pungent aged cheese," Corson writes.
That form of sushi was prized in Japan by 718 A.D. The name may have come from the Japanese word for sour (suppai) and a Chinese word for preserved fish that sounded like "chee" - shortened to su-shi, for sour preserved fish.
3. And then came vinegar
By the 1400s, the fish was being eaten earlier in the preservation process, when the rice was still palatable. The combination of lightly fermented fish and rice eventually became the basis of luxury meals. In the 1600s, sake-makers discovered the process that led to the making of rice vinegar. Added to fresh rice, vinegar created what was called haya-zushi - quick sushi.
Whole fillets were laid atop vinegared rice, then compressed with heavy stones. The compacted result was cut up like a sheet cake.
4. A bit of sweetness in the mix
In the Kyoto area, chefs began adding sugar to their sushi rice for flavor, but also found it kept the rice from spoiling, as sugar consumes water, without which bacteria die. "That's why fruit jellied with lots of sugar is called 'preserves.' "
To this day, Kyoto sushi runs sweeter than Toyko sushi. Americans lean toward the Kyoto style, just as they favor sweet-sour Chinese dishes.
5. That piece of green plastic
In the 1800s, it became common to form rice by hand into tiny rectangles - nigiri - that would be topped with fish or other seafood. Chefs packed sushi with bamboo leaves separating the nigiri pieces, to keep the flavors from mixing. The leaves also had a mild anti-bacterial effect. That green piece of decorative plastic included in takeout sushi today hails to that tradition.
6. Wipe your hands, please
Much sushi was sold on the street as finger food, and vendors hung strips of newspaper in their stalls for customers to wipe their hands. Fancier establishments hung cloth - "... a person could judge the popularity of a sushi vendor by how dirty his cloth was."
Sushi restaurants still hang strips of cloth in their doorways, although these days they're strictly decorative.
7. Introducing: the california roll
The ubiquitous California Roll was invented in Los Angeles' Little Toyko in the late 1960s. It is credited with making sushi palatable to Americans, but the roll was really a chef's way to make up for the scarcity of fresh ahi belly, or toro, for his Japanese customers. Avocado added a rich fattiness to the rolls.