---
KEY INGREDIENT
Chef directing a class in the way of the noodle
Chef Leslie Ashburn invites you to use your noodle, in a natural, unprocessed way.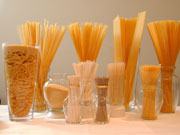 The personal chef, known for her macrobiotic meals, offers a class, "Oodles of Noodles," from 5:30 to 8 p.m. Friday in Waikiki (you have to make a reservation to get the exact location).
Ashburn will introduce such dishes as Seitan Stroganoff Over Udon and Tempeh Pasta Salad with Umeboshi Tahini . Cost is $40. Call 398-2695.
The next night, Ashburn hosts her monthly Vegan Macrobiotic Community Dinner, from 6 to 7:30 p.m. at Church of the Crossroads, 1212 University Ave.
On the menu: Carrot Ginger Soup, Baked Tofu Loaf and Blanched Mohala Collard Greens. Cost is $13.
E-mail reservations to macrobiotichawaii@hotmail.com; call 398-2695 or 988-7374. - Star-Bulletin
Molokai girl wins national honor
Sarah Jenkins, a sixth-grader from Akaula School on Molokai, won an honorable mention at the national level in this year's Letters About Literature contest.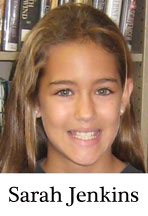 The competition challenges young readers to write a note to an author, explaining how a particular book changed their view of the world or themselves.
Sarah wrote to Mildred Taylor, author of "Roll of Thunder, Hear My Cry," a 1976 novel about a black family's struggle against oppression in rural Mississippi during the Depression. She was the winner for her age group in the Hawaii State Public Library contest and then advanced to the national level.
Readers in grades 4 through 12 may enter the 2009 Letters About Literature contest, composing a note to any author from any genre - fiction or nonfiction, contemporary or classic, from any time period and country.
Top essayists will be named in three age levels, winning cash prizes and Target gift cards. All state winners will go on to the national competition. At that level, Sarah won an additional $100 gift card and $1,000 for her school library.
Entry deadline is Dec. 6. Forms are available at public libraries or may be downloaded at www.librarieshawaii.org. Call 586-3555.
Winning essay
Dear Mrs. Taylor,
"Racism is man's gravest threat to man - the maximum of hatred for a minimum of reason." This quote by the author Abraham Joshua Heschel rings loudly in my ears. Nothing is more devastating than bearing hatred because of the color of your skin, because of the skin color God gave us. I admire your book, "Roll of Thunder Hear My Cry," because you had the courage to write about and expose a topic so wounding. I can personally relate to the struggle against racism endured by the African-American people in your book. Sadly, racial prejudice exists here in my home - here in Hawaii. But, instead of white people mistreating black people, some Hawaiian people mistreat white people, Hawaiian versus haole.
"Haole" is a racist label spewed out hurtfully like the "N" word. It's what the Hawaiians call us, not the other way around. Piercing and plunging, daggers stab my heart when I hear them call me that. From verbal reminders to visual reminders, signs of hatred line the highways of Molokai.
Provoking controversy and plaguing my island, signs of hatred glare at me everywhere. All these hate signs due to a piece of land called La'au owned by a company called Molokai Ranch. This company wants to build 200 homes on sacred land. Opposing and protesting, the Hawaiian people are against the building of the homes. But, instead of signs that say, "No to La'au" or "No to Development," they say, "Haoles go home" and "No to 200 white houses." These visual reminders stare at me every day on my drive to school. Just because I am white does not mean that I agree to development either. This is my home, this is our home, this is Molokai - regardless of race.
Receiving hate and racial comments feels horrible and disgusting like vomit. It STINKS! Your book confirmed my thoughts that no one should judge a person by the color of their skin, but by their character and personality of their soul. That's all that should matter. My best friend is half-Hawaiian, half-African American. Even though we have different color skins, we never tease one another. We're heart sisters from the inside - forever friends. She gets called "black girl," and when I'm around her we get called "Oreo." It is very sad that people are ignorant and say thoughtless words. You have to ignore stupidity and walk away. That's my advice. Maybe someday I will write a book about our friendship that propels beyond the boundary of skin color.
Sincerely,
Sarah Jenkins
P.S. I'm a huge fan! Keep writing and doing what you do best.