Suspect sought in armed assault
Police are asking for the public's help to find a man who allegedly threatened to kill his ex-girlfriend and then himself after kidnapping her from her workplace in Ko Olina.
Toi A. Nofoa, 31, kidnapped his ex-girlfriend at gunpoint from her Ko Olina workplace at about 7:40 p.m. Thursday, but the woman escaped about an hour later, said Honolulu CrimeStoppers coordinator Sgt. Kim Buffett.
Before the kidnapping, the 25-year-old woman had just received a security escort to her vehicle, a standard procedure, in the Ko Olina Resort and Marina parking lot, when Nofoa approached her to talk, Buffett said.
The two had broken up about two months earlier.
The woman walked with Nofoa to his red 2002 Isuzu Rodeo, where he allegedly pulled out a handgun, pointed it at her neck and forced her into his vehicle.
Nofoa drove to the 76 gas station in Haleiwa while telling the woman that he would kill her and then himself, Buffett said.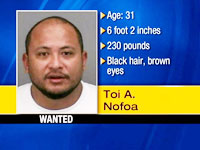 Police are asking for the public's help finding a man who is said to have kidnapped his ex-girlfriend at gunpoint and threatened to kill her.
At the gas station, the woman escaped as Nofoa got out the vehicle. Bystanders intervened and Nofoa let the woman go.
The incident could have turned out worse, Buffett said. "Thankfully, people intervened."
The woman had scratches to her hand from the struggle.
Nofoa is known to frequent the Leeward area, and citizens should not approach him because he is considered armed and dangerous.
Police want Nofoa for suspicion of first-degree terroristic threatening and kidnapping.
He has several tattoos on his forearms, upper arms, shoulders and back, including tribal tattoos covering his shoulders and a tattoo that reads "Nofoa" on his back.
He is 6 feet 2 inches tall, weighs 230 pounds and has black hair and brown eyes.
Police said Nofoa could be driving one of two vehicles, a black 2004 H2 Hummer, which is registered to the woman, or his red 2002 Rodeo.
Nofoa has one conviction in Hawaii for liquor in a public place, a petty misdemeanor, from 2006.
Anyone with information is asked to call CrimeStoppers at 955-8300 or *CRIME from a cellular phone.