Willoughby free as assault trial looms
Hawaii-based Olympic volleyball medalist Kim Willoughby pleaded not guilty yesterday to assaulting another woman outside a Kakaako nightclub, an alleged attack that left the woman with broken bones and chronic pain.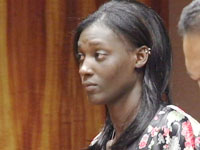 Kim Willoughby is accused of assaulting another woman outside a nightclub nearly two years ago.
Willoughby's lawyer said she acted in self-defense, but a deputy prosecutor said the 5-foot-11 former University of Hawaii standout followed the woman outside the club and assaulted her in the parking lot.
Circuit Judge Derrick Chan scheduled trial for May. Willoughby remains free on $50,000 bail.
Deputy Prosecutor Sherri Chun said the trial date allows Willoughby to resume her career as a professional volleyball player in Europe and allows time for the alleged victim to take care of some family issues.
According to a September 2007 Oahu grand jury indictment, Willoughby assaulted a woman outside Pipeline Cafe on Dec. 16, 2006.
"It was an assault that happened right outside the club," Chun said.
Willoughby's lawyer, Richard Hoke, said it was self-defense.
"Everyone that knows Kim Willoughby knows that she's not a troublemaker," he said. "Unfortunately, she found herself in a situation where she had to defend herself, and she couldn't avoid that confrontation."
The state first attempted to bring charges against Willoughby in June 2007 through information-charging documents.
"It was originally thought it was assault in the second degree," Chun said, "but the complaining witness had suffered serious bodily injury, so they had to upgrade it to assault in the first degree."
However, state law does not provide for charging someone with first-degree assault through sealed information-charging documents - a method using statements presented to a judge rather than witness testimony before a judge or grand jury. So at the state's request, Chan dismissed the charges in July 2007. But he did order Willoughby not to contact the alleged victim and another woman.
And because Willoughby never answered to the charges in court, the documents were not made public.
The state then took the case before a grand jury, which returned an indictment last September charging Willoughby with first-degree assault. Chan ordered the indictment kept under seal until her arrest.
Chun said Willoughby learned about the indictment this summer, hired a lawyer and returned to Hawaii to answer the charge.
Willoughby, 27, a former UH All-American, lives in Kailua but plays professional volleyball in Italy. She was a member of the U.S. women's volleyball team that won the silver medal at the Beijing Olympics this summer.
She turned herself in to state sheriffs last Tuesday. Chan unsealed the indictment Wednesday.
First-degree assault is a Class B felony punishable by up to 10 years in prison.
In 2001, Willoughby pleaded guilty to two counts of misdemeanor third-degree assault, for which she requested and was granted a deferral. The court cleared the charges from her criminal record the following year for complying with certain court-ordered conditions, including staying out of trouble for the year.