---
PBS to air feature on Kamaka ukuleles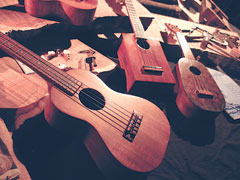 The Kamaka family's commitment to the ukulele is commemorated in "Heart Strings," a half-hour documentary on PBS Hawaii, airing at 8:30 p.m. Thursday.
The film, produced by Dawn Kaniaupio and directed by Stuart Yamane, tells the story of Kamaka and Sons, which for nearly 100 years has crafted fine ukuleles from a tiny shop in Honolulu. The program includes interviews with musicians who use Kamaka instruments, including Jake Shimabukuro, Gordon Mark and the late, great Genoa Keawe.
As a companion piece, "Na Mele: Traditions in Hawaiian Song - The Art of Solo 'Ukulele" will follow "Heart Strings."
Plans for a national PBS broadcast are pending. - Star-Bulletin
Penguins strut with cans' award
A pair of penguins made out of carefully stacked cans was the crowd favorite in the 2008 Canstruction competition at Pearlridge Center.
"Melting," by Ferraro Choi & Associates, won the People's Choice Award, determined by the number of canned goods donated by Pearlridge shoppers on behalf of the penguin piece.
Over its two-week run ending Sept. 7, Canstruction collected 48,775 pounds of canned food for the Hawaii Foodbank.
Police duo leads Wahiawa cleanup
The community of Wahiawa - led by police officers Josie Kaanehe and Jerry Scoville - is hosting "Wahiawa Extreme Make Over Day" Saturday, kicking off a cleanup project that especially targets graffiti.
With the Wahiawa Lions Club as sponsor and donations from several area businesses, volunteers plan to fill flatbed trucks with recyclable items and paint out graffiti all over town.
Recyclables will be collected from 8 a.m. to 2 p.m. at the Wahiawa Civic Center parking lot, 900 California Ave. Items accepted include scrap metal, vehicles, metal appliances, lawn mowers, paper, beverage containers, passenger tires, green waste, batteries, cellular phones, printer cartridges, computers, cooking oil, used eyeglasses and hearing aids. Household items and clothing will be collected for Goodwill Industries.
Anti-graffiti teams will meet at the Wahiawa Police Station. Donations of latex paint, brushes, rollers and rags are needed. Pioneer Ace Hardware will match paint colors to Wahiawa buildings at a discount, and is also donating gloves and more paint.
Cash earned for the recyclables will go toward buying paint to keep battling graffiti.
Call for information, to volunteer or to arrange curbside pickup, 778-9270 or 306-1876.
Kapiolani holding golf fundraiser
Golf for Miracles, a fundraiser for Kapiolani Medical Center for Women & Children, is scheduled for Sept. 26 at Wailea Golf Club.
The 18-hole noncompetitive fundraising event was started by Lynn Araki-Regan, whose son Riley was born 10 weeks premature in 2005, and Anne Takabuki, president of Wailea Golf, both board members of the Kapiolani Health Foundation.
The event includes brunch and a post-tournament pupu reception, providing a look at work being done at Kapiolani Medical Center. Maui parents who received lifesaving medical treatment at Kapiolani will also share their stories.
Participants are asked to collect pledges of at least $2 per hole, with a minimum collection of $360. Register at www.kapiolani.org.