| | |
| --- | --- |
| | Newswatch |
---
$95,000 grant boosts vog study
The National Center for Environmental Health awarded a $95,000 grant to the John A. Burns School of Medicine to continue looking at effects of vog on health, U.S. Sens. Daniel Akaka and Daniel Inouye announced.
The grant will support a volcanic-emissions study that began in 2002 and add the charter Volcano School of Arts and Sciences to the research, said Dr. Elizabeth Tam, chairwoman of medicine and project director.
About a dozen researchers have been studying respiratory effects of vog on more than 1,400 Big Island students. "With this grant, we hope to add to the number of students we monitor and also develop ways to help students cope with vog symptoms," Tam said in a news release from the medical school.
10-year term in online sex case
A Waipahu man was sentenced last week to 10 years in prison for using the Internet to solicit sex from an undercover police officer posing as a 13-year-old girl, according to the state Attorney General's office.
Circuit Judge Randal Lee sentenced Tyler Wong on Monday.
Police arrested Wong at the old Kamehameha Swap Meet, where he had set up a meeting with a Honolulu Police Department detective who pretended to be a teenage girl on the Internet.
Wong pleaded no contest on May 15 to a charge of electronic enticement of a child in the first degree.
Isle-based C-17 aids evacuation
McCHORD AIR FORCE BASE, Wash. » A C-17 cargo plane operating out of Hawaii conducted an emergency medical evacuation in Antarctica last week.
The Air Force says a 56-year-old man with heart trouble was flown Wednesday from McMurdo Station to receive medical care in Christchurch, New Zealand.
The plane and crew attached to McChord Air Force Base in Washington state is operating out of Hickam Air Force Base, in support of the National Science Foundation and the U.S. Antarctic Program.
Ceremony to mark POW/MIA Day
The Joint Prisoner of War/Missing in Action Accounting Command will commemorate National POW/MIA Recognition Day at the National Memorial Cemetery of the Pacific at 10 a.m. Friday.
The ceremony will include a wreath-laying, speeches and the playing of taps in recognition of prisoners of war and those still missing in action from previous wars. The ceremony will be led by JPAC's commander, Rear Adm. Donna Crisp. Keynote speaker will be retired Navy Capt. Jim Hickerson, a former Vietnam War POW. The ceremony is free and open to the public.
One American is still missing from the Gulf War, more than 1,750 from the Vietnam War, 120 from the Cold War, more than 8,100 from the Korean War, and more than 78,000 from World War II.
| | |
| --- | --- |
| | Police, Fire, Courts |
---
Man accused of sexual assault
Police charged a 68-year-old Salt Lake man Friday with the sexual assault of a 4-year-old girl this summer.
Joseph Lopez Jr. was arrested at his Likini Street home Thursday morning and charged with two counts of first-degree sexual assault and one count of third-degree sexual assault. He is being held in lieu of $50,000 bail.
Police said the girl reported being touched inappropriately by Lopez on Aug. 19. Detectives said their investigation revealed other sexual abuse of the girl on June 22 and July 16.
Man dies after fall into blowhole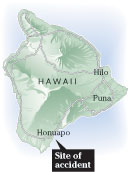 A 50-year-old
man died after falling into the Honuapo blowhole in Kau yesterday, a Big Island fire news release said.
Police identified the man as Len Nakano of Hilo.
Police said Nakano was picking opihi at Pohinapale in Naalehu when a large wave pushed him into a blowhole.
When firefighters arrived at about 10:30 a.m., the man's body initially could not be found. But a fire department helicopter located it about 30 yards offshore, 100 yards south of the blowhole, the news release said. Firefighters brought the man's body to shore at about 11:30 a.m.
NEIGHBOR ISLANDS
Fisherman injured in fall off of cliff
A 28-year-old man sustained serious injuries Friday after falling 25 feet off a cliff onto rocks at Ulua Point near Nawiliwili Harbor on Kauai.
Jered Melandez was fishing with friends at about 3:35 p.m. when he slipped and fell onto rocks near the water's edge, according to a news release from Kauai County.
A fire department rescue boat and a Coast Guard helicopter responded to the incident.
The fire department rescue swimmer reached Melandez about 20 yards offshore in rough water and helped him into the helicopter at about 5 p.m.
Melandez went to Lihue Airport, from which medics drove him to Wilcox Hospital for treatment. His condition was not available last night.
WEST OAHU
Man, teens busted with stolen items
Police said they arrested a 23-year-old man and two teenage boys in a stolen rental car with allegedly stolen credit cards and identification Thursday night.
Police said a tourist couple parked at an unidentified beach to go snorkeling Thursday and when they returned, the car was gone.
Undercover officers spotted the car about 7:15 p.m. in Pearl City, pulled it over, and arrested the driver and two boys in the car, ages 16 and 17.
Police said they found several credit cards and ID cards in the car that belonged to other people.
CENTRAL OAHU
Store worker nabs alleged shoplifter
A 57-year-old woman was booked yesterday on suspicion of stealing $670 worth of goods from a Mililani department store.
The woman allegedly put the items in her bag while shopping with a cart at about 5:30 p.m.
A manager stopped the woman outside the store and recovered $673.59 in merchandise from her, police said.
She was arrested on suspicion of second-degree theft.
HONOLULU
Teenager arrested in alleged robbery
A 16-year-old boy was arrested yesterday after allegedly robbing a 55-year-old man of his backpack in Honolulu, police said.
At about 2:10 a.m., the boy showed the victim a knife and demanded his backpack, police said. The boy's 22-year-old cousin tried to stop him but the boy fled.
Responding officers arrested him on suspicion of first-degree robbery.