BOOKSHELF
Isle Pages
New book releases from Hawaii authors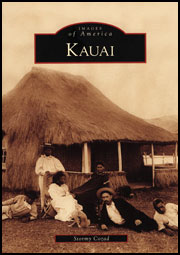 "Kauai"
By Stormy Cozad / Arcadia Publishing / $19.99
Kauai and its rich history are showcased in this pictorial. Illustrated with photographs and drawings, it begins with views of the island sketched by the illustrators who traveled with Cook and other explorers. Kauai's long agricultural past is also showcased, with many photos showing early sugar and pineapple plantations.
An interesting section focuses on remote areas of the island. Mount Waialeale, for example, was unique in the difficulties it presented in exploration by early scientists and their efforts to set up and read rain gauges there.
Most of the photos are courtesy the Kauai Museum and the Kauai Historical Society and are, for the most part, well reproduced. It's an interesting visual chronicle of an island's past.