---
'IOLANI IN A RUNAWAY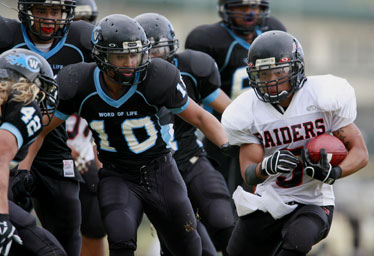 Wahine lose soccer tourney opener
Despite scoring first, the Rainbow Wahine soccer team fell to Pacific 2-1 yesterday in the first game of the Pacific Fall tournament at Stagg Stadium in Stockton, Calif.
The Tigers scored on a penalty kick in the 60th minute to tie the game, then scored the go-ahead goal 7 minutes later. Hawaii (1-3-1) managed five shots, with only two on goal.
The Wahine play again tomorrow against San Francisco in the tournament's final game.
PACWEST PLACE
Vulcans win doubleheader
Brazilians Josimara Pinheiro and Fabiane Seben combined for 48 kills, leading the UH-Hilo women's volleyball team to back-to-back victories over Mary 25-10, 25-10, 25-18 and Alaska Fairbanks 25-13, 25-22, 25-23 yesterday in the first day of the Montana State-Billings Invitational in Billings, Mont.
Pinheiro led the Vulcans (9-2) with 12 kills against the Marauders in the first match, and Seben had a game-high 14 kills against the Nanooks in the second.
Hawaii-Hilo has won six consecutive matches and plays Northern State and tournament-host Montana State-Billings today.
Silverswords remain winless
Hawaii-Hilo forwards Nyle Ortiz and Dustin Daley both scored in a 2-0 victory over Chaminade yesterday at the Hawaii Challenge at the Wapio Soccer Complex.
The Vulcans (4-1) have won four straight while Chaminade (0-4) has yet to win this soccer season.