Memorial honors Coast Guard crew
Top officials praise the four men's experience and devotion to duty
More than 2,000 relatives, Coast Guard personnel, politicians and Hawaii's community of first responders paid respects yesterday to the Coast Guard helicopter crew lost last week in a crash in waters off Honolulu Airport.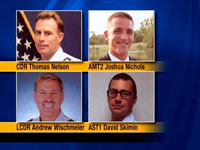 Two Coast Guard Helicopters flew overhead in a missing man formation prior to dropping a wreath at the crash site at sea.
Adm. Thad Allen, commandant of the Coast Guard, said the message of "the crew of (Helicopter) 6505 to those who follow is: We protected you. We defended you. We saved you. We were guardians."
The bodies of three crew members of the orange HH-65C Dolphin helicopter were recovered following the Sept. 4 crash. They were co-pilot Lt. Cmdr. Andrew Wischmeier, 44, of Fort Lauderdale, Fla.; rescue swimmer Petty Officer 1st Class David Skimin, 38, of San Bernardino, Calif.; and flight mechanic Petty Officer 2nd Class Joshua Nichols, 27, of Gloucester, Va.
The body of the fourth crew member -- Cmdr. Thomas Nelson, 42, of Staten Island, N.Y., and the executive officer of the 300-member Coast Guard Barbers Point Air Station -- was never recovered. The search for him was called off Sunday after a three-day search that covered more than 3,000 square miles.
It was the first fatal Coast Guard aviation crash in Hawaii since 1982 and the first involving the modified Charlie model of the twin-engine Dolphin helicopter. Two years ago the Coast Guard in Hawaii replaced the engines in the four helicopters assigned to Barbers Point because of the high incidence of midflight failure. The nearly $15 million conversion job was completed last year.
Allen told reporters after a 90-minute memorial service that there are now two investigations of the crash. Parts of the downed helicopter were recovered and taken to a hangar at Hickam Air Force Base.
With a large American flag as a backdrop, Capt. Brad Bean, commanding officer of the Coast Guard's Barbers Point Air Station, said, "We lost more than a co-worker. We lost a brother and a truly selfless friend in each of them."
Although the Sept. 4 mission was "a routine training flight," Bean said, "this flight serves as a tragic reminder that what we even consider to be routine is inherently dangerous and must be closely managed."
He described the crew of 6505 as "seasoned and mature" with more than 50 years of combined Coast Guard aviation experience and said that they had been flight instructors.
The families of the four Coast Guard members sat in the first two rows of seats in the Barbers Point hangar facing four small white carnation wreaths. In front of each wreath was a blue flight helmet, a pair of shiny black boots and a neatly folded olive drab flight uniform. A white C-130 Coast Guard cargo plane and an HH-65C Dolphin helicopter were positioned at the entrance to the hangar.
Each of the fallen "Coasties" was posthumously awarded the Meritorious Service Medal, which Allen and Bean presented to a family member.
At the close of the memorial service, two orange HH-65Cs performed a fly-by, with one peeling off to drop a wreath at the crash site.