---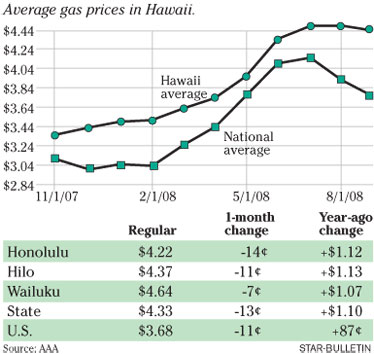 HAWAII
State gas prices keep falling
Gasoline prices continued to slide downward during the past week and the statewide average dipped by 2 cents to $4.33 a gallon for regular unleaded, according to
AAA Hawaii.
"This is the seventh week that gasoline prices have declined throughout the islands," AAA Hawaii Regional Manager Richard Velazquez said. "We hope that this decline continues throughout the month of September to provide more relief to drivers because prices are still a dollar higher than a year ago."
Yesterday's average gas price in Honolulu was $4.22 a gallon for unleaded, down 14 cents from last month and up $1.12 from a year ago. In Hilo, the average price was $4.37 a gallon, off 11 cents from last month and up $1.13 from a year ago. In Wailuku, the average price was $4.64 a gallon, down 7 cents from last month and up $1.07 from a year ago. Nationwide, the average price was $3.68 a gallon, down 11 cents from a month ago and up 87 cents from a year ago.
Pasha decreases fuel surcharge
Pasha Hawaii Transport Lines
, which carries vehicles between Hawaii and San Diego, said yesterday it was lowering its fuel surcharge by 4.75 percentage points to 35 percent from 39.75 percent, effective Sept. 21.
The cost to transport vehicles remained at $1,072.
Pasha last increased its surcharge by 2.5 percentage points to 39.75 on Aug. 31.
The decrease in Pasha's fuel surcharge, which is lower than its competitors, follows recent decreases of 4.75 percentage points to 37.5 percent by Horizon Lines Inc. and Matson Navigation Co. that also go into effect on Sept. 21.
Hawaii Opera Theatre honored
Hawaii Opera Theatre outperformed more than 70 percent of charities surveyed in the nation and is the only arts organization in the state to receive a 4-star rating from Charity Navigator for the fiscal year of 2007.
The 4-star rating by Charity Navigator is awarded to charities which demonstrate an outstanding ability to efficiently manage funds and increase finances.
Maui auto registration online
The County of Maui is now accepting 24-hour online vehicle registration at the state Web site,
www.eHawaii.gov
. Vehicles currently registered in the County of Maui are eligible for online renewal if the safety check is current and registration is at least five days away from expiring.
To renew online, owners need to provide the vehicle's license plate and the last four digits of the vehicle identification number. Payments can be made by electronic check or major credit cards through eHawaii's secure payment processor.
Registration certificates and emblems will be mailed to registered owners.
Island Insurance rating "strong"
Island Insurance Co.
, the state's largest locally owned and managed property and casualty insurance carrier, has reaffirmed its "Aq" (strong) rating for Quantitative Insurer Financial Strength by Fitch Ratings.
"These ratings are important because they provide policyholders with an independent opinion about the financial strength of their insurance companies," said John Schapperle, president and chief operating officer of Island Insurance.