New program at airport speeds security checks
Honolulu Airport now has a zip lane for frequent travelers who want to whiz through security.
The state Department of Transportation and the U.S. Transportation Security Administration started a new program yesterday at Terminal 5, where United, Northwest, Continental and American airlines are located. It aims to reduce stress and speed things up for passengers flying to the mainland and beyond.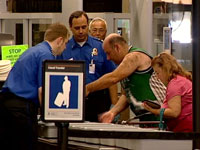 Passengers will make the selection based on how much time they expect to need to get through the check point.
The main purpose of the program is to "calm down the screening process" at checkpoints, where there is "a lot of noise, hustle and bustle and a lot stress," said Adam V. Myers, TSA deputy assistant federal security director.
It is also a way to better weed out the stressed-out passenger with "intent to do harm" from those who are just showing the usual anxiety about making it to their gate on time, he added.
The Diamond Self-Select Lanes program allows passengers to choose among the zip or "Expert" lane (designated by a Black Diamond sign), which includes those who have their documents ready and travel light; the Casual (Blue Square) lane, for those familiar with the check-in routine but have multiple carry-ons; and the Family/Special Assistance (Green Circle) lane, for those with small children, elderly passengers, groups or anyone needing extra time to get through security.
Extra personnel will be on duty during the transition and will exhibit more aloha spirit while directing passengers to the appropriate line.
"Their smiles and welcome are a welcome sight for them (passengers). Most seemed pleased to be helped and that we're expediting things," he added.
Laurie Kapaona of Waimalu, traveling with her husband, told security officer Robert Brennan that they wanted the fastest line.
He recommended the "Family" lane because no one was in it, which officers might do if a lane is shorter.
She thought the new program was a good idea "because I hate being in back of people with lots of kids. I like to just be able to take off my shoes (to be scanned) and just go. I also just take a carry-on (bag)."
A businessman returning to the mainland sped through the "Expert" lane, commenting, "Looks good!" over his shoulder.
When TSA officer Peter Sur saw families coming through the lobby entrance, he took the initiative to approach them, whereas usually "our initial contact is at the (checkpoint) podium. We're being proactive rather than reactive."
He asks them if they have any bottled drinks they need to dispose of before they reach the checkpoint.
"They feel much better disposing it themselves than me rummaging through their bag" to remove large amounts of liquids after being X-rayed, Sur said.