'Lost' actor fined $500 for drunken driving
Daniel Dae Kim had been driving at more than twice the legal limit for blood alcohol
A state judge ordered Daniel Dae Kim yesterday to pay a $500 fine and perform 72 hours of community service after the "Lost" television show actor pleaded no contest to driving drunk.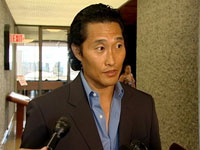 Daniel Dae Kim pleaded no contest to driving drunk, police found his blood alcohol was more than twice the legal limit.
Honolulu District Judge William Cardwell also ordered Kim to pay $412 in fees but suspended $200 pending the actor's completion of a 14-hour alcohol rehabilitation program. And under a plea agreement with the state, Cardwell dismissed a charge that Kim drove his vehicle in more than one lane of traffic at the same time.
Honolulu police said a patrol officer stopped Kim, 40, on South King Street at Isenberg Street at about 2:30 a.m. Oct. 25 because his car was moving erratically. His blood alcohol content was 0.168.
Cardwell told Kim, "You need to understand that 0.168 is more that double the legal limit. It means you were seriously impaired. And it just cannot happen again. It's simply too dangerous."
Kim said, "Believe me, sir, I do."
It is unlawful for someone with a blood alcohol content of 0.08 or higher to operate a vehicle. Driving with a blood alcohol content of 0.15 or higher qualifies that person as highly intoxicated under state law and draws stiffer penalties.
Deputy Prosecutor Lisa Demello had asked Cardwell to impose the maximum $1,000 fine for a first-time, highly intoxicated driving offender.
"Mr. Kim's stature makes him a role model in the community. Therefore, the consequences of his behavior must be such that it will compel him to consider his actions before he re-offends or commits another criminal offense," she said.
The state Administrative Drivers License Revocation Office has already suspended Kim's license for six months, and he has regained his driving privileges.
Kim plays Jin Soo Kwon on the popular television show. He apologized for disappointing his fans and said he does not intend to make the same mistake again.
"I'm just grateful and relieved that this matter is resolved. It's been a pretty difficult time for my family and me. But I'm glad I had a chance to take responsibility for my mistake," he said.