Surfer recounts brush with death
Todd Murashige's doctor anticipates he will walk again after a shark attack
Competitive surfer Todd Murashige was sitting on his surfboard a half-mile out from shore near Crouching Lion on Monday afternoon when a shark suddenly appeared and took a big bite out of his right leg.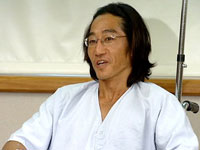 Todd Murashige was out at his favorite surf spot at Crouching Lion on Tuesday afternoon, when he felt a shark tear into his right thigh.
"It just seemed so surreal, like it wasn't real - just a head of a shark right here on my lap," said the husband and father of two.
The 40-year-old Kaneohe man jabbed his fingers into its mouth to pry the shark off, and managed to avoid its teeth except for a cut to his pinkie. He instinctively began paddling as fast as he could back to shore but turned "to make sure the shark wasn't going to finish me off."
What Murashige saw was "like a chunk of flesh kinda just hanging there" from his leg and a piece of his board floating away.
The fit, 5-foot-4, 115-pound man paddled the half-mile in alone in about eight to 10 minutes.
Murashige, a tile setter, spoke yesterday about his brush with death at a news conference at the Queen's Medical Center's Conference Center, joined by his orthopedic surgeon, Dr. Kevin Christensen.
"We anticipate that he's gonna walk again, and hopefully we'll see about surfing, but I'll leave that up to him," he said.
Christensen said Murashige was in very serious condition with the injury extending almost all the way around his thigh. While he lost a lot of blood, his artery was not cut, and he never went into shock and remained calm throughout.
He received a 15.7-inch laceration to his quadriceps muscle, an 8-inch cut to his hamstring and smaller 1.5-inch cuts around the ankle, with muscle and tendon hanging out, Christensen said.
Christensen repaired his leg but is concerned about the thigh muscle and nerve damage to the ankle.
Despite his injuries, Murashige said, "I feel blessed."
Had the injury been to his arm, he would not have been able to paddle, he reckons. Or it could have hit an artery.
He said he believes the shark was taking a test bite and that it figured he "wasn't too good-tasting" and did not bite and shake.
Murashige, who won the Local Motion Surfing to Summer amateur meet in June, said the surf spot off Crouching Lion is his favorite, just 15 minutes from his Ahuimanu home.
On Monday, Murashige noticed the water was a little murky and, because the waves were modest, he decided to surf for just an hour. He paddled out alone, as he often did, with no one else in sight.
After the attack, Murashige remained quiet and conserved his energy, caught a wave but mainly paddled in.
Another surfer, whom he met that day, proved to be his "angel."
He ran to his car, got his towel, "folded up the piece of meat back," wrapping it up to keep it from falling, and called 911, Murashige said.
Lying on shore, Murashige thought he was going to lose consciousness.
"I told myself if I black out, I was going to die, so I called my wife and I called my mom," he said, pausing as a few tears streamed down his cheek, and told them that he loved them. "I guess you don't realize, yeah," he said, his voice trailing off.