OHA scrutinizes travel bills
Trustees trade barbs as an internal audit reveals questionable spending on airfares
STORY SUMMARY »
The Office of Hawaiian Affairs is revising its travel policy largely because of concerns raised about the spending of trustee Rowena Akana, several colleagues said.
Akana, however, said she is being retaliated against because she is questioning what she said is the first-class travel of board Chairwoman Haunani Apoliona and an OHA staff member.
"On Rowena's part, people who live in glass houses shouldn't throw stones," said trustee Oswald Stender, chairman of OHA's financial affairs committee.
Stender questioned Akana's purchase of full-fare unrestricted coach tickets for three trips last year.
Four trustees traveled to Washington, D.C., in May to lobby for the Akaka Bill but paid vastly different airfares.
According to OHA travel documents, Akana spent $2,548.40 on her unrestricted American Airlines coach ticket - more than double the cost of trustee Boyd Mossman's restricted coach ticket on United for $1,130.13, which included a stopover in Phoenix for another meeting.
Akana said the higher price is because she booked late and flew the most direct route.
---
FULL STORY »
The Office of Hawaiian Affairs is conducting an internal audit of travel costs between 2005 and 2007 after several trustees raised questions about the travel of trustee Rowena Akana and Chairwoman Haunani Apoliona, internal memos and documents show.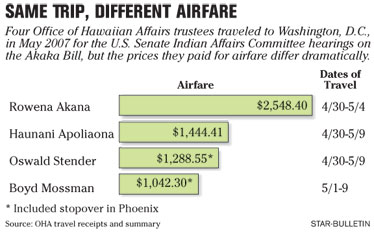 Most of the questions from other OHA trustees surround Akana's purchases of what one memo called "full-fare, economy unrestricted tickets."
In three instances in 2007, Akana's plane tickets cost more than $2,500 each for trips to New York via Las Vegas, and to Washington, D.C.
Akana, in turn, is criticizing the travel of Apoliona and OHA staff and said some of the documents being released are meant to embarrass her because of the questions she is raising.
Akana said she tries to fly the most direct route to the East Coast, which is sometimes the most expensive. She also said she is not informed early enough about travel or her travel is approved late, forcing her to buy tickets at the last minute.
"It's a long trip," she said. Taking too many stopovers to get a cheaper fare means "you're not fresh for your meeting when you get there. It's common sense for me (to take the most direct route)."
But a memo from OHA Administrator Clyde Namuo said cheaper direct-route restricted fares were available for at least two of Akana's trips to Washington, D.C.
Akana paid $2,548.40 for an unrestricted ticket on April 30, 2007, when a similar ticket was available for about $849, according to Namuo. She traveled again to Washington on May 13 for $2,551.80 when similar restricted fares were available for between $875 to $1,325, he noted.
Namuo wrote that the "Y"- or "B"-class fares that Akana purchases allow Elite AA Advantage members to request upgrades at no additional cost and allow for changes and stopovers at no cost or penalty.
"On her May 13, 2007, trip to Washington, D.C., Trustee Akana stopped over in Los Angeles for 12 days on a personal trip. The invoices received from Worldwide Travel provided no indication of this 12-day stopover in Los Angeles nor was the stop indicated on her Travel Authorization Request form," Namuo wrote.
Akana said some of the information being released is false and misleading.
"These are not first-class tickets," she said.
Akana said she did not make a personal stopover on the April 30 trip to Washington, and said all of her trips were approved by Namuo. Akana said she followed OHA travel policies and rules, which allow her to use her own travel agency.
Trustee Oswald Stender, chairman of OHA's Committee on Asset and Resource Management, said OHA is revising its travel policies for staff and trustees and will require that all travel go through OHA's in-house travel agency to find the least expensive fare.
Stender also said he will propose that the OHA chairperson approve all travel, rather than have the OHA administrator approve travel for his bosses, the trustees.
The board can monitor the chairperson, Stender said.
But Akana said instead of focusing on her, the board needs to more closely examine the travel spending of Apoliona and the staff.
In a July 23 memo to Apoliona, Akana questions why Apoliona flew on a nonrestricted ticket to Washington on June 1, 2005, at a cost of $2,597.61 and first class to Washington on July 16, 2005, for $3,642.61.
Akana said Apoliona's travel costs for 2005 and 2006 were what Akana described as a "whopping $56,089.53."
Trustee Colette Machado said there is "no comparison" between Apoliona's and Akana's travel.
"She (Akana) keeps trying to be the whistle-blower, but clean your own house first," Machado said.
Apoliona said she generally buys coach tickets that can be upgraded using miles to first class.
"As chair of the board, I have traveled consistent with the expectations of doing my duties," Apoliona said.
Earlier this summer, OHA released on its Web site an accounting of all out-of-state trips taken by trustees. The documents showed five of the nine trustees took 22 out-of-state trips on OHA business for a total cost of $57,589.91.
Akana took seven trips and Apoliona took eight.
OHA spokeswoman Crystal Kua said a review of the travel costs showed some minor changes in expenses, and the document was taken off the Web site so that the numbers can be corrected. She said she expects it to be re-posted today.
OHA gets a share of revenues from the lease or use of state ceded lands.
Beginning this fall or early next year, state Auditor Marion Higa is also expected to begin an audit of OHA's finances.
Stender said he expects to have a draft of changes to OHA's travel policy available for a committee meeting next month.
Apoliona said she also believes the travel policy needs to be tightened.