| | |
| --- | --- |
| | Island Mele |
---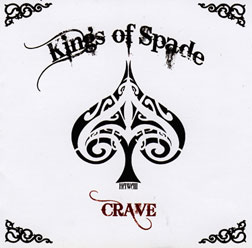 "Crave"
Kings of Spade
(no label)
Just when it seems that everything Hawaii residents are recording these days can be categorized as being either Hawaiian, hapa haole, Jawaiian, hip-hop or pop, along comes Kings of Spade (formerly X-Factor) with something entirely different.
Editorial "truth in labeling" principles require a mention that "Crave" is the product of an extended period of work and recording in Los Angeles. But the group calls Hawaii its home and some of the work was done here -- and that suffices to claim this landmark release as "local product."
For the record, while the liner art shows a trio, the performance credits list a quintet plus some studio sidemen. Whatever the official roster, "Crave" is a fascinating musical journey.
The title song opens the Kings' eight-song calling card with high-intensity blues rock reminiscent of Alannah Myles' 1990 hit, "Black Velvet." The second song, "Boys in the Band," builds on that foundation and positions the group as Hawaii's next big rock act. Versatility is the thing thereafter as the Kings embrace horn-band funk, spoken word poetics and bluesy acoustic pop.
Vocalist Kasi Nunes, the resident lyricist, tackles an assortment of topics in memorable style. "Weight On My Shoulder" dissects the experience of being 25 ("... just five away from 30") and feeling the passage of time -- it isn't necessary to be 25 or close to it to relate. Nunes' poetic tour de force, "Don't Hate Me," describes the experiences of "growing up a baby dyke" and spending years as "a closet homo" before finally reaching a place where "a hater's lame opinion can't cause me any strife." Add the musicians' contributions and Nunes' musical epic is a frank but witty tale of personal empowerment -- and a memorable piece of music.
Related | Features: X-Factor returns to harmony
---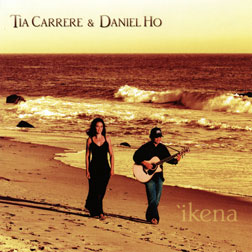 "'Ikena"
Tia Carrere & Daniel Ho
(Daniel Ho Creations)
On their first album together, "Hawaiiana," Hawaii-born actress Tia Carrere was the voice, producer Daniel Ho provided the music, and the album was billed as a solo Tia Carrere project. This time around, Ho is singing as well as playing guitar, ukulele and piano, and they're sharing the billing.
Ho keeps things interesting as producer by taking a mix-and-match approach to the vocals. Some selections are duets, others are solos. Carrere is showcased as the solo voice on "Welo" with just a hint of Ho heard in the background. He gets the vocal spotlight on "Ku'u Ipo My Darling" and "The Breakfast Song."
Longtime fans of Ho's work will recognize the melody of the latter song, but new Hawaiian lyrics give it a fresh feel and an additional layer of meaning.
The album also benefits from Ho's work as the producer of other projects. He and his label have released two albums of Hawaiian chant, "Kalakaua" and "Kapiolani," in conjunction with Hawaiian musicologist Amy Ku'uleialoha Stillman, and she now returns the favor as Ho's lyricist on all the newly written songs here. Stillman also wrote the liner notes that put "'Ikena" and the individual songs in context.
"Hawaiiana" was a finalist for Best Hawaiian Music Album at the Grammy Awards earlier this year but lost to another album that Ho had produced. "'Ikena" could certainly be a contender for the honor in 2009.
John Berger
, who has covered the local entertainment scene since 1972, writes reviews of recordings produced by Hawaii artists. See the Star-Bulletin's Today section on Fridays for the latest reviews. Reach John Berger at
jberger@starbulletin.com
.