Doraku Sushi adds new chef and sake samplers
EVER SINCE I covered the opening of Doraku Sushi earlier this year, the Royal Hawaiian Center restaurant has been one of my top recommendations to friends wanting to eat before hitting up LEVEL4, "SKYLiNE" or Zanzabar.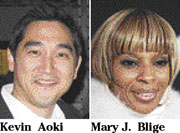 In addition to its central location and quality fish, Doraku co-owner Kevin Aoki is one of the nicest restaurateurs I've met. And don't let manager Russell Merdjanian's appearance deceive you -- this guy knows his stuff when it comes to picking (and drinking!) sake.
This month, Doraku introduces three new tasting flights developed by Merdjanian (prices for each are still being worked out). They all feature three different types of sake and are accompanied by an info card to tell you more about what you're drinking.
My favorite? The high-end Emperor Sampler, with tastes of Masumi "Seventh Heaven" ($86 per bottle), Hoyo "Fair Maiden" ($46 per bottle) and Kamoizumi "Autumnal Elixir" ($43 per bottle) sake. I also liked the green apple flavor of the Dewazakura "Green Ridge" ($37 per 16-ounce flask) offered in the new Shogun Sampler and the Masumi "Mirror of Truth" ($26 per flask) that comes with the Samurai Sampler.
You don't want to drink sake on an empty stomach, so be sure to try some of the new offerings by executive chef Todd Dae Kulper. He joined Doraku's Miami staff in January and arrived here three weeks ago to oversee the kitchen in Waikiki.
During our visit last week, Kulper served up tasty plates of Kona kampachi and kajiki sashimi that melted in our mouths while complementing the samplers. Luckily, he doesn't plan to alter the sushi menu too much, so be sure to also order a Doraku Roll if you decide to dine there.
If a club-like experience is a must, plan your visit on the weekend. Friday and Saturdays are billed as "Supper Club," with no cover and DJ Spikedelic spinning a mix of house, downtempo and hip-hop for the 18-and-over crowd ...
CONCERT NEWS: Tickets went on sale this week for an Oct. 24 concert by Mary J. Blige at the Blaisdell Arena ... King Michel Concerts announced a Nov. 21 show by Jefferson Starship at Pipeline Cafe. Tickets, priced at $36 and $43 in advance, go on sale Friday at all Ticketmaster outlets ... On Stage Hawaii unveiled its October lineup for "Wednesday Night Comedy" at Pipeline. Gilbert Gottfried, Paula Poundstone, Doug Benson and Ralphie May will perform each week, respectively, at 6 p.m. and 8:30 p.m. with Augie Tulba continuing as host ...
GOOD NEWS for fans of Slammers Bar and Grill, which closed down last month.
According to a press release, the bar's owners have relocated to Ward Avenue and taken over the space once occupied by Dixie Grill and Tio's.
Now known as Kanpai Bar and Grill, the bar will serve drinks from 11 a.m. to 2 a.m. during the week, with a full pupu menu and special 7 a.m. opening time during football season. They'll be open for business on Friday ...
WEEKEND PICKS: Matty Liu and Chris Cano continue to search for the right venue for their Friday party. This week, they open "Aloha Friday" at Don Ho's with DJs Big John and LT. On Saturday, iDeliver Entertainment kicks off "FUBU Saturdays" with a live set by The Deadbeats and DJ Ill Phil on the decks ... The guys from Level H Promotions celebrate two years of their "Deuce" monthly at the O Lounge on Friday. The party features an an all-black theme and $2 drinks before 11 p.m. ... Former Black Uhuru member Junior Reid arrives in Honolulu for a Saturday concert at Pipeline with local openers Ooklah the Moc and Hot Rain. Tickets are $25 and $50 at the door; 18-and-over welcome after 9 p.m. ...
E KALA MAI: The new "Surf Shack Saturdays" at The Shack Waikiki with the Vertical Junkies is for those over 21 years old. I mistakenly described it as 18-and-over last week ...
I'M TAKING OFF for a few weeks of rest and relaxation before we get into the holiday season. "In the Mix" returns Oct. 3 ...