---
Singer-guitarist Combs giving free performances
Singer and slack-key guitarist Cindy Combs will give free performances at several Oahu public libraries next week.
"Music From the Hawaiian Renaissance" is an hour-long concert of music and commentary. Combs will also read passages from George S. Kanahele's essay "The Hawaiian Renaissance."
Catch up to her at these public libraries:
» Sunday: 3 p.m., Kaimuki
» Monday: 6:30 p.m., Mililani
» Tuesday: 6:30 p.m., Aina Haina
» Next Wednesday: 6:30 p.m., Kaneohe
» Sept. 18: 6:30 p.m., Kailua
» Sept. 19: 3 p.m., Salt Lake
» Sept. 20: Noon, Hawaii State Library; and 3 p.m. Hawaii Kai
Coates to sign copies of book
Divorce lawyer Bradley Coates will sign copies of his revised book, "Divorce with Decency" (University of Hawaii Press, $19.95), at bookstores over the next week.
The third edition updates research and statistics on the effects of divorce on families and society, and includes a section on how to protect marriages.
Coates is the founder of Coates and Frey, a divorce and family law firm, and founder and administrator of Divorce with Decency, a low-cost mediation clinic. His signing schedule:
» Tomorrow: 12:30 p.m., Bestsellers Books & Music
» Saturday: Noon, Borders Waikele; 2 p.m., Borders Pearlridge
» Sunday: 2 p.m., Borders Windward Mall
» Tuesday: 7 p.m., Barnes & Noble Kahala Mall
» Sept. 20: 4 p.m., Borders Ward Centre
Aging conference starts Monday
The 15th Biennial Conference on Aging takes place Monday and Tuesday at the Hawaii Convention Center, with the theme of "Leaving a Legacy: Recreating Our Work and Life."
Sessions are from 8:30 a.m. to 5:30 p.m. with a focus on retirement planning, long-term care, older adults in the workforce, financial management, leisure activities, lifestyles that promote healthy aging and volunteering options.
Products and services for seniors will be featured in exhibits by 40 vendors.
Registration is $200, with discounts available for seniors, caregivers and students. Download registration forms and a schedule of events at www.hpgs.org.
Dinner benefits MS society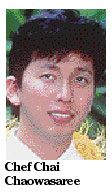 Chef Chai Chaowasaree hosts a benefit dinner for the National Multiple Sclerosis Society on Sunday at Chai's Island Bistro in the Aloha Tower Marketplace.
"The Silk Road: Journey to Join the Movement" offers food, wine and martinis from 5 to 8 p.m.
On the menu: Miniature of Sauteed Escargot, Corn Chowder Shooters, Deconstructed Beef Tenderloin Wellington, Smoked Duck Breast Carpaccio Salad and more.
Tickets are $100 ($40 tax-deductible). Tables for 10 are $1,500 to $5,000. Call 532-0808 or e-mail diana.su@nmss.org.