| | |
| --- | --- |
| | Newswatch |
---
Foodland charity drive begins
Foodland is inviting customers to donate up to $249 to their favorite Hawaii nonprofit organization as part of its annual charitable-giving program: Give Aloha, Foodland's Annual Community Matching Gifts Program.
The program runs through the end of the month at all Foodland and Sack N Save stores in Hawaii. Foodland will match each donation up to a total of $300,000 for all organizations.
About 600 nonprofits have registered in Give Aloha 2008.
To donate, customers tell the cashier that they want to make a donation to an organization. The cashier adds the tax-deductible donation to the customer's purchase total, and the amount and organization appears on the customer's receipt.
"Give Aloha" was created in 1999 in honor of Foodland's founder, Maurice Sullivan, and has raised more than $10.8 million for Hawaii charities.
Talk explains cancer-fighting diet
The public is invited to a talk by Cancer Research Center of Hawaii researcher Robert Cooney from 11:30 a.m. to 1 p.m. today on how a diet rich in fruits and vegetables can help prevent cancer.
"Lipid Micronutrients: The Holy Grail of Nutrition and Longevity" will be the topic of Cooney's talk, one in a series of "Future First" lectures at the cancer center, 126 Lauhala St., Room 401.
The lectures are free and open to the public, but registration is required by calling Cecilia Kramer, 564-5915. Lunch will be provided, and complimentary valet parking will be available.For more information, call 564-5815 or visit www.crch.org.
| | |
| --- | --- |
| | Police, Fire, Courts |
---
HONOLULU
3 teens arrested for alleged threat
Police arrested three teenage boys who allegedly threatened another teenager with baseball bats and then chased him in Kalihi.
Police said the victim, an 18-year-old man, was walking home from his girlfriend's house at about 6:24 p.m. yesterday when he was confronted by his girlfriend's ex-boyfriend.
Police said the ex-boyfriend and the other two suspects got out of their car carrying baseball bats. Police said the ex-boyfriend swung a bat the victim and threatened him. The victim ran back to his girlfriend's house and was chased by the suspects, police said. They broke off the chase when he reached the house. Police arrested all three suspects later for investigation of first-degree terroristic threatening.
2 men charged in robbery case
Police charged two men who allegedly robbed a man Thursday while he was walking on Salt Lake Boulevard at Namur Road.
Jeremy Leclair and Joshua M. Cypriano were charged with first-degree robbery.
Police said in an affidavit that at about 7:50 p.m. Leclair was holding a large knife and made stabbing motions toward the victim saying, "give me your stuff." When he refused, Cypriano allegedly punched the man in the face. When the refused again, Cypriano allegedly hit him several more times.
The victim threw his backpack toward the men, so they would stop hitting him and ran on Salt Lake Boulevard, police said.
The victim dropped his work cell phone while being chased, and used his personal phone to call 911. Cypriano tried to chase him down, but did not catch him, police said. Leclair ran in the opposite direction, police said.
One of the suspects got into a waiting car and fled.
Police got the description and license plate number of the car and were later able to track down the car and the knife, which eventually led them to Cypriano and Leclair, according to the affidavit.
WAIKIKI
Man says woman threatened him
Police arrested a 29-year-old woman who allegedly threatened a man in Waikiki early yesterday.
Police said the man told them the woman threatened him with a weapon at about 3:20 a.m. at 449 Kuamoo St., although police would not say what type of weapon was used. Police arrested the woman for investigation of first-degree terroristic threatening.
LEEWARD OAHU
Woman stopped in stolen vehicle
Police arrested a 45-year-old woman who was allegedly speeding in a stolen car on the freeway.
Police said an officer stopped the woman for speeding just after 2 a.m. Sunday on the H-1 freeway near Waipahu. When the officer asked the woman for her driver's license she gave him a state identification card instead, police said.
The officer noticed that the car the woman was driving had only paper plates so he wrote down the vehicle identification number and went back to his police car to check the number via his on-board computer. The woman then sped away, police said. The officer gave chase and learned that the car the woman was driving had been reported stolen on July 19.
The woman later stopped and the officer arrested her for investigation of auto theft, driving with a license as well as contempt.
She was also cited for speeding. The officer then searched the car and found evidence of drugs, police said. The woman was then arrested for investigation of several drug violations. She was released later pending investigation.
Lost man's kin seeks hikers' help
The family of a missing 77-year-old Australian man is asking for experienced hikers who know the Waimalu Ditch Trail for assistance in finding Jon Parsons.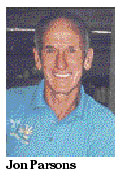 The Honolulu Fire Department, after an extensive search Thursday through yesterday, has terminated its search pending new information, such as any further sightings of Parsons, visiting from Bendigo, Australia.
"We don't want anyone to get hurt," said daughter Meryl Robertson. "We know how treacherous it can be. If anyone's experienced in that area, it would be good."
The group was to meet at 8 a.m. in front of the gate at Nahalekeha subdivision on Onikiniki Place at the top of Kaonohi Street in upper Pearl City.
Parsons, an experienced hiker, left Thursday at about 10 a.m. to hike the trail.
The trail is not a popular hike. It is heavily forested with a thick canopy overhead and steep ravines, and much of the ground is covered in thick fern, said fire Capt. Terry Seelig. The area is also covered with pig trails, which could confuse hikers.
Seelig said the Fire Department did aerial searches from Thursday to Saturday. Upon learning new information from a pig hunter who talked to Parsons Thursday morning five miles in from the trail head, fire personnel searched along the trail, stream and the steep slopes of the ravine covering 12 square miles on the ground.
The Police Department also assisted, using its helicopter and the Specialized Services Division's canine units. Department of Land and Natural Resources officers also helped in the search. The Hawaiian Trail and Mountain Club also assisted in the search over the weekend.
"The family is such a wonderful, devoted group," Seelig said. "Our hearts just go out to them."
NEIGHBOR ISLANDS
Victim ID'd as Laupahoehoe man
Big Island police identified yesterday a man who died after a fiery one-car crash in Laupahoehoe last Tuesday as Reid K. Barton of Laupahoehoe.
Barton was driving a station wagon at 11:41 a.m., heading south on Liloa Road, when he lost control and ran off the left side of the road, police said.
The car caught fire and Barton could not escape, police said. Firefighters were called to the scene and extinguished the fire.
Barton was taken to Hilo Medical Center, where he was pronounced dead at 6:01 p.m.
Driver falls asleep, gravesites damaged
Six gravesites were damaged after a 36-year-old man crashed into a cemetery on Kauai Saturday after he apparently fell asleep while driving.
Police said that at about 4:45 a.m., the man was traveling north on Kuhio Highway in a Nissan Sentra when he crossed the centerline. The vehicle went airborne over a stone wall and crashed into St. Catherine's cemetery.
Police said the driver, the only occupant, was not injured.
Son is arrested in father's stabbing
Police arrested a 51-year-old Kailua-Kona man Sunday in connection with the stabbing death of his 85-year-old father in a North Kona home, a Big Island news release said.
Police identified the victim as John M. Scott of Alii Drive.
At about 6:30 a.m., police responded to a report of a stabbing and found Scott dead in his home with a stab wound in the upper torso.
Police arrested Anthony Scott for investigation of second-degree murder.
He was being held at the Kona Police cellblock.
Residents evacuate as fire threatens
HILO » Residents of 33 homes in the Ouli Ekahi subdivision on the dry west side of Waimea wet down their houses with garden hoses Sunday night, checked on their neighbors' children in homes where parents were at work, then evacuated as a grassland fire threatened the community, the Fire Department said.
As 21 firefighters worked through the night, the fire was brought under control after scorching 40 acres.
No property was damaged, and evacuees returned to their homes at 7 a.m. yesterday.
The fire between Kawaihae Road and a residential street was reported at 10:21 p.m., Battalion Chief Aaron Arbles said.
Ten homes were considered threatened at one point, but the entire subdivision was evacuated because of concerns about residents breathing smoke.
The cause of the fire is under investigation.