Army commander shifts gears
Gen. Robert Caslen will have his troops building Iraq, rather than destroying it
For 33 years, the Army taught Robert Caslen "how to break things."
Now as the commander of the more than 20,000 soldiers - including 4,600 from Schofield Barracks - headed for Iraq late next month, Maj. Gen. Caslen said he has had "to learn how to build things."
Caslen's comments to reporters this week reflects the Army's new philosophy drafted two years ago by Gen. David Petraeus, former commander of U.S. and international forces in Iraq who now heads Central Command. The Army's new field manual on counterinsurgency emphasizes building nations rather than destroying them and soldiers being "warriors, builders and diplomats."
Col. Thomas Guthrie, Caslen's chief of staff, said the 12-month mission of the soldiers of the 25th Infantry Division and other troops assigned to Multi-National Division-North, is "to conduct stability and reconstruction" efforts in an area in Iraq that is described as large as the size of the state of Ohio.
Four Iraqi provinces will fall under Caslen's command: Ninewa, Salah ad Din, Kirkuk and Diyala - the largest, most diverse and most volatile sector in Iraq, where al-Qaida insurgents have incited sectarian violence with terrorism aimed at the majority Shiite population.
Caslen's Multi-National Division-North headquarters will be at Contingency Operating Base Speicher near Tikrit in northern Iraq, more than 105 miles north of Baghdad. It is named after Navy Lt. Cmdr. Scott Speicher, who went missing in 1991 when his F/A-18 Hornet jet fighter was shot down by an Iraqi Air force MiG-25 Foxbat.
Caslen will have soldiers operating near Mosul and Kirkuk. Caslen said he plans to conduct what the Army calls "battlefield circulations" by visiting each of his brigades daily via helicopter to stay personally in touch with his field commanders.
The two-star general assumed command of the 11,000-member 25th Infantry Division in May.
The division's 2nd Stryker Brigade Combat Team, which left Schofield Barracks in December, is at Taji, north of Baghdad, and under the control of Multi-National Division-Baghdad. The Stryker Brigade is expected to return home next spring.
Caslen's headquarters of 1,000 soldiers on Friday completed a Mission Readiness Exercise at Schofield Barracks' $38 million Battle Command Training Center, which was designed to test all of the elements and soldiers that the general will command in Iraq.
The various units assigned to Caslen were connected digitally via satellite with Caslen's Schofield Barracks headquarters during the exercise, in which various problems were generated for Caslen and his staff to resolve.
At his side at Schofield Barracks simulated operations center were the leaders of the 25th Infantry Division's 3rd Brigade Combat Team as well as the 3rd Brigade Combat Team of the 1st Cavalry Division from Fort Hood in Texas and the 10th Combat Aviation Brigade from Fort Drum in New York. Schofield Barrack's 25th Combat Aviation Brigade and its helicopters won't be deployed to Iraq until next year.
On the satellite network with Caslen were leaders of the 1st Stryker Brigade Combat Team at Fort Lewis, Wash., and I Corps headquarters at Fort Lewis. Caslen takes his orders from Army leaders stationed at I Corps.
Lt. Col. Jon Narimatsu, a 1984 Iolani School graduate, is returning to the same part of Iraq as a member of Caslen's command headquarters. Narimatsu, who deployed with the 3rd Brigade when it stayed in Iraq for 15 months in 2006, and his staff are working on economic issues the general will face in Iraq. To develop possible scenarios, Narimatsu and his staff met with economists at the University of Hawaii as well as members of Mayor Mufi Hannemann's administration.
Caslen said the purpose of the visits was "to find ways to build an economy from the ground up."
Narimatsu, who earned an economics degree from Washington University in 1988, said one possible solution is to help local Iraqi governments develop vocational technical schools.
Caslen was upbeat in his assessment of the current situation he will command in Iraq. "The security provides for the institutions to grow and when the infrastructure grows, the economy also grows. ... The big question we all ask is it a irreversible and a sustainable security?"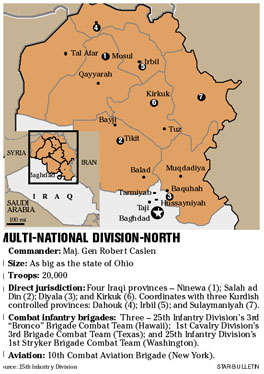 [ click image to enlarge ]