| | |
| --- | --- |
| | Newswatch |
---
3 found guilty in isle meth case
Three Las Vegas residents face a mandatory 10 years to life in federal prison after they were found guilty of conspiracy to distribute methamphetamine in Hawaii, the U.S. Attorney's office said.
Benjamin Acuna, Anabel Valenzuela and Eddy Olguin face sentencing Jan. 5 after they were convicted this week of shipping 2,000 pounds of meth from Nevada to Hawaii between 2002 and 2005, U.S. Attorney Edward Kubo Jr. said in a statement released Thursday.
Acuna and Valenzuela, who are married, were accused of spearheading the operation, with Olguin helping the day-to-day operation.
All three were convicted of conspiring to distribute and possess, with intent to distribute, 50 grams or more of methamphetamine.
Acuna and Valenzuela were also found guilty of conspiracy to commit money laundering. The jury ordered them to forfeit to the government $8 million, five properties and the contents of four bank accounts and a safety deposit box in Las Vegas.
Kubo said 21 people have been prosecuted and convicted of federal drug offenses for their roles in a drug ring that became the focus of a three-year investigation by the Drug Enforcement Administration and Internal Revenue Service.
He says another accused co-conspirator, Antonio Santos, 40, of Waipahu was sentenced Sept. 2 by U.S. District Judge Michael Seabright to 20 years in prison for conspiring to distribute and possess, with intent to distribute, 50 grams or more of methamphetamine.
Alert issued on roadside vendors
The state Health Department warns the public not to buy food from unlicensed roadside vendors because of possible safety concerns.
Rex Mitsunaga, Sanitation Branch chief, said the department has had increased complaints from the public about roadside vendors.
The agency has no confirmed reports of related illness, but residents and visitors have complained that they became ill after consuming food from unlicensed vendors.
"Unlicensed vendors raise concerns about whether food being sold is properly handled and prepared, whether proper temperatures are being maintained to prevent spoilage and the source of meat and other raw products used," Mitsunaga said.
Legal vendors have permits they must show upon request or post in their vehicle, and they're required to comply with safe food-handling rules.
| | |
| --- | --- |
| | Police, Fire, Courts |
---
Police arrest suspect in shooting
Police arrested a 19-year-old man in connection with a shooting on Moanalua Freeway that left a 16-year-old boy paralyzed from the chest down.
The shooting happened on July 9 at 1:30 a.m. on the Moanalua Freeway near the Tripler Medical Center off-ramp. The teenager was a passenger in a Waianae-bound car driven by a 22-year-old man when a man fired four shots from the passenger window of a gray Honda Civic, police said.
The 16-year-old boy, who was sitting in the front passenger seat, was shot in the torso. Police said the boy has been paralyzed from the chest down as a result of the gunshot wound.
Detectives said they recently identified the suspect and arrested him at his Alexander Street home Friday on suspicion of attempted first-degree murder, two counts of attempted second-degree murder and firearms violations.
NEIGHBOR ISLANDS
Man injured during pool exercise
A 27-year-old man was in critical condition yesterday after an accident at a scuba diving retail store in Kailua Kona, a Big Island fire news release said.
At 4:42 p.m., the man was found motionless at the bottom of a pool at Jack's Dive Locker used for scuba practice, firefighters said. His friends reported he had been practicing breath-holding techniques.
Friends pulled the man out of the water and began cardiopulmonary resuscitation on him until emergency rescuers arrived.
The man was taken to Kona Hospital.
Truck crash spills oil, gas into river
Big Island firefighters helped contain an oil and fuel spill after a pickup truck flipped over in the Hakalau River, according to a news release.
Firefighters were called out at about 3:07 p.m. yesterday and found the overturned four-door pickup truck about 500 yards upstream from Hakalau Beach. The driver had apparently fled the scene.
Officials said about two quarts of engine oil and between two to four gallons of fuel or engine coolant spilled into the river.
The state Department of Land and Natural Resources was called and a fire department hazmat unit used booms to contain the spill to a small section of the river.
Visitor reported missing by police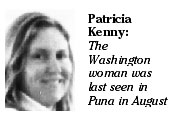 Big Island police are asking for the public's help to find a 56-year-old Washington state woman missing since August.
Patricia Kenny, of Port Townsend, was last seen in the Hawaiian Paradise Park subdivision in Puna on Aug. 30, police said.
Kenny is 5 feet 5 inches tall, about 165 pounds with blond medium-length hair and blue eyes.
Anyone with information on her whereabouts is asked to call Officer Allan Watanabe at 966-5835, police at 935-3311, or Crime Stoppers in Hilo at 961-8300 or in Kona at 329-8181.
WAIKIKI
Man sitting in car allegedly attacked
Police arrested a 47-year-old man who allegedly attacked another man sitting in his car in Waikiki.
At about 8:15 p.m. Friday, a 37-year-old man was sitting in his car on Ala Wai Boulevard when the suspect approached him and allegedly punched him through the window.
Police said the suspect then pulled the victim out of the vehicle and allegedly punched him several more times. Officers were called and arrested the suspect on suspicion of unauthorized entry into a vehicle. The victim suffered a cut to the inside of his lower lip and scratches to his elbow.
LEEWARD OAHU
Police confirm murder-suicide
The two victims of Thursday's murder-suicide case at an Aiea convenience store both died of a single gunshot wound to the head, according to the city Medical Examiner's Office.
Investigators at the Medical Examiner's Office determined that Dennis Minoru Inouye, 61, of Pearl City died of a self-inflicted gunshot wound.
Police said video surveillance camera recorded Inouye shooting 54-year-old Judy Shimamoto of Aiea before turning the gun on himself. The two were found dead at Bobo's Mini Mart on Kamehameha Highway on Thursday morning, where the two worked together.