BOOKS
UH harvests interesting book from CTAHR
In most cases, the name of a school within a university pretty much explains the type of learning going on. The schools of business, education, art, architecture, music ... self-explanatory. Within the College of Engineering, many things may be going on, but you can pretty much assume they all involve math.
"HAWAII'S COLLEGE OF TROPICAL
AGRICULTURE & HUMAN RESOURCES:
CELEBRATING THE FIRST 100 YEARS"
Edited by Barry W. Brennan and James R. Hollyer

(University of Hawaii, $30)
MANOA AUTHORS FESTIVAL
The editors of the CTAHR centennial book will participate in this festival featuring sales and book signings by University of Hawaii authors:

» Dates: 11:30 a.m. to 1:30 p.m. Tuesday and Wednesday

» Place: UH-Manoa, Kuykendall Hall Events Room & Gallery, Room 106

» Call: 956-6978, e-mail cte@hawaii.edu or visit www.cte.hawaii.edu
Then you have the University of Hawaii's College of Tropical Agriculture and Human Resources. Besides being a mouthful, and carrying the rather inelegant acronym of CTAHR, what exactly does that name mean?
The school explains itself in impressive fashion with "Hawaii's College of Tropical Agriculture and Human Resources: Celebrating the first 100 years," published to mark the school's centennial in 2007.
The editors -- Barry W. Brennan, James R. Hollyer, Gail Miyasaki and Sandy Kimberly -- deserve congratulations for taking the work of dozens of writers -- researchers, teachers and administrators, primarily -- and presenting it in concise bits, enlivened with great photographs from throughout the college's past. Although the writing isn't particularly lively, it is informative and doled out in a manner that's easy to digest, not in endless columns of dense prose.
So what does go on within CTAHR? This is the college that developed profitable ways for local farmers to raise orchids, pigs and coffee; that teaches students to become fashion designers; that fosters the statewide 4-H program. Its nutritionists encouraged us to eat our Five-A-Day; its extension service home economists worked outreach in our communities; its researchers made groundbreaking studies of the fruit fly.
And much more.
The big, heavy publication is much like a yearbook -- or a hundred-year-book -- covering the history and accomplishments of the "calabash" of departments within CTAHR. As a whole it would probably fascinate only those who learned and worked within the college, although judging by the scope of its programs that's probably a huge number of potential readers.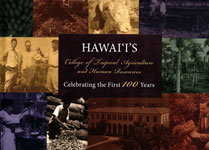 The book lends itself surprisingly well, though, to browsing. That's thanks largely to a clean presentation by Nancy Valies Graphic Design that keeps each section to a couple of pages of easy reading.
Skim through for such topics as "Poultry's Place in Paradise," or "Evolution in Action: Hawaii's Drosophila Project" and you might find yourself learning something.
For example: To solve problems rearing the drosophila (fruit fly) in a laboratory in the 1960s, the daughter of a researcher suggested feeding them Special K cereal. "With this dietary breakthrough, Hawaiian Drosophila species became the most-studied and evolutionarily most famous group of insects, and put Hawaii on the map as a leader in evolutionary biology research."
See? You can learn something new every day.
The book is available through the UH-Manoa bookstore, the CTAHR office in Gilmore Hall on the UH-Manoa campus, or by mail through the Web site www.ctahr.hawaii.edu/order_form.pdf, or call 956-7036. It is also sold at Basically Books in Hilo.