Molokai water users protest rate hike
The 178 percent rise is implemented after years of a moratorium
More than 20 Molokai residents made a peaceful protest to Gov. Linda Lingle's office yesterday against water rate increases they described as an injustice to their community.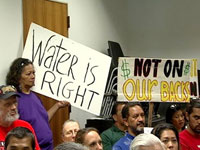 About a thousand households are facing water rate hikes of about close to 200 percent as a result of Molokai Ranch shutting down.
"The people of Molokai cannot afford a 178 percent increase for water rates," said Walter Ritte, coordinator of a group called Hui Hoopakele Aina, at a news briefing at the state Capitol. "I don't think anybody in Hawaii can afford that."
The group visited Lingle's office to request the previous public hearings held on the water-rate increase to be "null and void."
The Public Utilities Commission granted a rate increase that began Monday for Molokai Ranch's Molokai Public Utilities, to $6.04 from $3.18 per 1,000 gallons of water and Waiola o Molokai Inc. to $5.15 from $1.85. The rate increase affects an estimated 1,200 Molokai customers.
In a letter to Lingle, Ritte requested that Lingle hold another Public Utilities Commission hearing. "Our community does not deserve a rate increase that is higher than any other increase in the history of Hawaii," he said.
Lingle's chief of staff, Barry Fukunaga, who briefly met with the group, said a moratorium on implementation of rate increases over past years might have now put the community in a difficult situation. "Obviously, when you try to do catch-up, it really exacerbates the situation," Fukunaga said. He added that they hope to work toward a solution within the next six months. "We're looking forward to seeing this come to a satisfactory conclusion," he said.
The group also visited the Public Utilities Commission office yesterday to submit a letter that stated the increase will cause great harm to the Molokai community. The commission had said it granted the rate increase to prevent a shutdown of water service.
At a time of soaring medical and fuel costs, Maunaloa resident Byron Espaniola said the rate increase will greatly affect him as well as several members of his family who are on a fixed income. His mother, Josephine, pays $200 a month or dialysis treatments. "I don't know how they're going to pay their water bill," Espaniola said.