Hawaii delegates join electrified celebration
»
Lingle defends backing Palin
» Olympian Clay adds his praise of McCain
ST. PAUL, Minn. » Capping off a week of political celebration that almost didn't happen because of a hurricane bearing down on the Gulf Coast, Republican U.S. Sen. John McCain gave national convention delegates a reason to really let loose.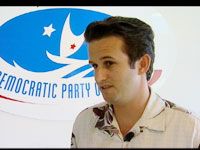 A small group of local democrats gathered around a TV at the party's Ward Warehouse Office.
"I found just the right partner to help me shake up the crowd in Washington, D.C.," McCain said last night after Gov. Linda Lingle put Hawaii in the spotlight with her introduction of Alaska Gov. Sarah Palin as the party's nominee for vice president.
With the 45,000 convention attendees still buzzing from Palin's star-making turn on the dais the previous night as the vice presidential nominee, McCain said: "I'm very proud to have introduced our next vice president to the country, but I can't wait until I introduce her to Washington."
The convention had worked toward this moment since Monday, when the traditional pomp and circumstance of opening day was muted by calls for aid to those in the path of Hurricane Gustav about 1,000 miles to the south.
When the storm passed in New Orleans, so too did the mood of gloom in St. Paul, giving the Grand Old Party a chance to loudly exhale last night.
"It's an absolute historic moment and the country should be proud to have a guy like him running for president," said Brian DiMartino, an alternate delegate from Maui who watched from the stands as his wife, Jana, a delegate, celebrated on the floor. "This is a guy - and he says it all the time - who puts country ahead of party."
McCain's nomination marks a historic moment for Hawaii, which now is guaranteed to have a president with significant Hawaii ties in the White House.
Democrat Barack Obama, who was born in Hawaii and educated at Punahou School, accepted his party's nomination last week in Denver.
McCain met his wife in Hawaii and his grandfather, Adm. John McCain Sr., was an aircraft carrier strike force commander in the Pacific during World War II. His father, Adm. John S. McCain Jr., was commander in chief of the Hawaii-based Pacific Command from July 1968 to September 1972 and was making the call on many U.S. decisions in Southeast Asia while his son was a prisoner of war in North Vietnam.
Lingle recalled McCain's most recent visit to Hawaii in 2004, after President Bush had won re-election. At the time, McCain said he was not considering a run for the White House.
"I feel very happy for him right now," Lingle said. "I feel so great about it because No. 1, he's a great American, and No. 2, he represents the kind of bipartisanship that I believe America has to have.
"His campaign was dead last August (2007) and here he is accepting this nomination. I like a person who never quits."
Adrienne King, a delegate from Oahu who said she had supported McCain in his failed 2000 bid for the presidency, called his nomination "destiny."
"I believe that John McCain appreciates, embodies and believes in the destiny of this country to lead the world to freedom and its quest for the liberation of the human spirit," King said.
After watching the speech from Democratic Party headquarters in Honolulu, party Chairman Brian Schatz said McCain gave an impressive accounting of his own personal trials as a prisoner of war, but did not address problems facing the country.
"He was squarely with George W. Bush on foreign policy," Schatz said. "He supported Bush's failed economic policy, and what I found most alarming: There was almost no serious mention or discussion of the economic hardship people are going through."
-Star-Bulletin reporter Richard Borreca contributed to this report.