Aiea murder-suicide
2 bodies are found in convenience store
STORY SUMMARY »
Police were investigating what they classified as a murder-suicide yesterday after two bodies were found in a convenience store in Aiea.
The double shooting would be the fifth murder-suicide this year.
Police said a man in his 40s fatally shot 54-year-old Judy Shimamoto and then shot himself at Bobo's Mini Mart, 98-064 Kamehameha Highway. He was apparently an employee at the store. A gun was recovered at the scene.
Shimamoto is the wife of the owner of the mini-mart, Stanley Shimamoto.
---
FULL STORY »
A man in his 40s shot to death a 54-year-old woman and then killed himself in an Aiea convenience store yesterday morning in the fifth murder-suicide this year, police said.
OTHER MURDER-SUICIDES THIS YEAR
April 25:
Domingo Dikito, 39, shoots and kills his wife, Della Dikito, 38, in the bathroom of their Ewa Beach home. He then goes into the garage and shoots himself.
May 26: Eliseo Dumlao Jr., 60, shoots to death his wife, Marissa Dumlao, 45, before shooting himself in their Halawa Heights home.
July 1: Michael James strangles his 39-year-old wife, Grineline, drowns his 7-year-old son Michael Jr. in their Mililani home and then hangs himself the next day.
Sunday: Gerry Batoon, 41, kills his estranged wife, Kim, 31, with a gun before turning it on himself outside their Lanai City home.
A customer entered Bobo's Mini Mart at 9:44 a.m., saw a man lying in a pool of blood and then called 911. Emergency responders found the woman's body behind the counter and recovered a firearm at the scene.
The woman was identified as Judy Shimamoto of Aiea, according to the city Medical Examiner's Office. Police did not release the identity of the man this morning, but neighbors and customers identified him as Dennis "Denny" Inouye.
The two were pronounced dead at 9:57 a.m. yesterday. An autopsy was expected to be conducted today to determine the cause of death.
Bobo's Mini Mart, 98-064 Kamehameha Highway, is in the corner of a building near Waimalu Shopping Center.
Wayne Choe, owner of the property, said Shimamoto took over the store from another owner in December.
Investigators have determined that the two were coworkers. Lt. Bill Kato of the police department's homicide division confirmed the case as a murder-suicide.
Bobby Woo, of the family-owned beauty salon next door to Bobo's, had been sleeping at the salon and didn't hear anything all morning.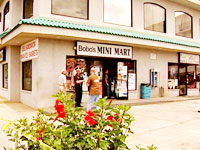 Honolulu police are investigating the deather of a man and woman whose bodies were found in an Aiea mini mart.
"Still, I can't believe, really," he said. "It never happened like this, close ... my neighbor."
Bobo's Mini Mart's business license is registered to JYS Inc., with Stanley Shimamoto listed as the agent.
Inside the locked doors, towels covered blood streaks on the floor.
Those who knew her said Judy had one son who graduated from high school recently and a daughter on the mainland.
Judy was a doting mother who bought a car for her only son, said Bruce Woo, whose girlfriend owns the beauty salon next door.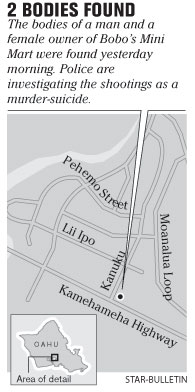 "Judy, she work hard and she supply for the kids," he said.
Grieving customers stopped by and left hibiscus and plumeria flowers in a small memorial before the door. They described Judy as a hard-working and strong woman.
Taisha Fernandez, 18, who lives around the corner from the store, said she called her "Mama."
"I'm just going to miss her because she's such a good lady," she said. "She's a very understanding and mellow lady."
Judy would sometimes give her free Icees or bags of ice.
She often saw Judy's two dogs at the store and the man sitting next to her in the store.
"Oh, my God," Claudia Boles wailed after learning about Judy's death. "She was really wonderful to all the children that came out. She had a great spirit. I can't believe it.
"She's so vibrant, everything. To do something to Judy like that would be awful because Judy's always accepted others for who they were."
She also said Denny was a good guy and the two never seemed to have problems.
"He helped her every day," Boles said. "He's good."