| | |
| --- | --- |
| | Newswatch |
---
Cheney threat adds to sentence
A man who spent 14 months in federal prison for threatening the life of President Bush will spend an additional three years in prison for threatening the life of Vice President Dick Cheney.
A federal judge sentenced Ronald Saville yesterday to 37 months in prison for threatening Cheney.
Saville, 30, pleaded guilty to the charge in May. He had been charged with threatening both Bush and Cheney, but the government dropped the charge involving Bush in exchange for his guilty plea in the charge involving Cheney.
The threats were contained in a letter Saville wrote and handed to a guard to mail last December at the federal detention center in Honolulu. At the time, he was serving the remainder of his prison term for his earlier conviction for threatening Bush.
| | |
| --- | --- |
| | Police, Fire, Courts |
---
HONOLULU
Murder case filed in teen's shooting
Police charged a 19-year-old man yesterday with murder in the shooting death of a Kalihi teenager at Ala Moana Park early Monday.
Khaynava Phanthanouvong, 18, was shot and killed about 2:40 a.m. after two groups allegedly met in Ala Moana Park for a confrontation.
Christopher Alesna, 19, of Kalihi was charged with second-degree murder, the use of a firearm in the commission of a felony and another firearms-related charge. He does not have a criminal record as an adult.
Phanthanouvong was calling and text-messaging Alesna on Sunday night and challenging him to a fight, according to a police affidavit filed in Honolulu District Court.
The two agreed to meet at Ala Moana Beach Park. At about 2:40 a.m. Monday, Alesna arrived with another male, while Phanthanouvong came with a friend, the affidavit said. The four confronted each other near the Waikiki Yacht Club.
Witnesses said they heard at least one gunshot shortly afterward. Phanthanouvong and his friend ran to their vehicle, and Alesna fired two or three more rounds toward them, according to the affidavit. Phanthanouvong told his friend he was shot. He was driven to the Queen's Medical Center, where he died. Phanthanouvong was shot once in the chest.
Phanthanouvong's friend and "numerous witnesses" identified Alesna as the shooter, who fled the scene before police arrived.
WINDWARD OAHU
Man allegedly forged check
Police arrested a 50-year-old man Wednesday after he allegedly tried to cash a forged check for hundreds of dollars.
Shortly before 4 p.m. Wednesday, the suspect entered a bank on Kaneohe Bay Drive and tried to cash an $850 check. The teller discovered the check was forged, police said.
The suspect was still at the bank when police arrived. He was arrested on suspicion of second-degree forgery and unauthorized possession of personal and confidential information.
LEEWARD OAHU
Search resumes for missing hiker
Police and rescue officials continued a search today for a 77-year-old man who has been missing since he went hiking on the Waimalu trail yesterday.
The man was supposed to have returned home by 2 p.m. yesterday. He was reported missing at 7:47 p.m. A search began at 8:30 p.m. yesterday off the trailhead at the end of Onikiniki Place but was suspended at midnight. Honolulu Fire Department spokesman Capt. Terry Seelig said the search resumed at first light today.
Girl, 12, arrested in sexual assault
Police arrested a 12-year-old girl who allegedly sexually assaulted a 13-year-old girl at a Leeward Oahu intermediate school.
Police said the older girl said she was sexually assaulted Tuesday at 12:25 p.m. at school.
The 13-year-old identified the 12-year-old, and police arrested the girl Wednesday morning on suspicion of third-degree sexual assault.
The suspect was released pending investigation.
2 men accused of burning tent
Police arrested two men who allegedly burned a tent at a Leeward beach park in June.
In the morning on June 17, a 41-year-old woman was in her tent at a beach park in Waianae when she saw two men, each of them holding what she said looked like a Molotov cocktail, a glass bottle with a rag stuffed inside that was on fire.
The men allegedly threw the bottles at the woman's tent, causing it to catch fire. The woman escaped without injuries. Police said the suspects later drove to a different beach park where they allegedly assaulted a 44-year-old man and damaged a 69-year-old woman's vehicle.
On Wednesday, the suspects, both 37, were arrested on suspicion of second-degree arson, second-degree assault and first-degree criminal property damage.
NEIGHBOR ISLANDS
Kauai police seek missing man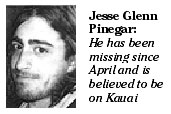 Kauai police need help in finding a 22-year-old man missing since April.
Jesse Glenn Pinegar was last seen on April 13. He flew to Hawaii from Utah for a vacation earlier this year. He is believed to be somewhere on the North Shore, possibly in Kalalau Valley or working on a farm, police said.
Pinegar is 6 feet 1 inch tall, weighs about 185 pounds and has brown hair and eyes. He has a tattoo of a Celtic Tree of Life on his right shoulder, and a Celtic bear tattoo on the left side of his abdomen.
Anyone with information is urged to call police at (808) 241-1711 or (808) 241-1696 or CrimeStoppers at (808) 241-1887.
Kobayashi signs reported stolen
Police are investigating the theft of 160 campaign signs supporting City Councilwoman Ann Kobayashi in her race for mayor.
Earlier this week, supporters living in private homes in Waimanalo discovered their signs and banners supporting Kobayashi had been taken from their yards.
Kobayashi's campaign filed a police report, which has spurred a theft case.
Kobayashi said the campaign had the addresses of all the homes that had the signs.
Each of the signs cost up to $20 each and many were made by volunteers, Kobayashi said.
"We're just remaining positive and moving forward," Kobayashi said. "If anything, our volunteers are even more committed now."