| | |
| --- | --- |
| | Island Mele |
---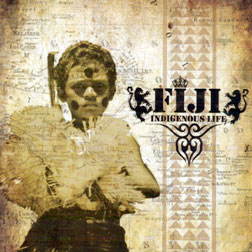 "Indigenous Life"
Fiji
(Indigenous Alliance)
Fiji has been an important figure in local music for almost 15 years. His newest album utilizes his talents as vocalist and songwriter as he tackles topics ranging from sex to politics, recorded in English, Fijian and another unidentified Oceanic language.
The opener, "Tau Mai Laveta," is a proud acknowledgment of his native Fijian heritage. The most impressive songs thereafter call for unity among all Oceanic peoples; the title track and "Warrior Call" combine commercial reggae-style rhythms with insightful lyric messages about the importance of preserving indigenous cultures and languages. Both are perfect for Hawaii's self-styled "island music" radio stations.
Fiji accommodates mainstream Jawaiian fans with apolitical songs about sex, love and relationships. Some are of the "booty-call" variety, while others touch upon the experience of couples dealing with day-to-day matters.
"Baby Morgan" closes the album with a touching and heartfelt requiem for a beloved child.
---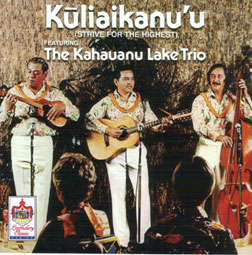 "Kuliaikanu'u"
Kahauanu Lake Trio
(Hula)
Hula Records President Donald P. "Flip" McDiarmid III and project coordinator Cindy Lance complete an important project with the long-awaited reissue of the final album recorded by the K. Lake Trio. With this re-release, the entire discography of one of the most important Hawaiian groups of the late 20th century is now available on CD.
Hula Records reissues have a set a high standard over the years, and this one is no exception. McDiarmid and Lance show their respect for the trio and for Hawaiian music fans as well by including the Hawaiian lyrics, English translations and background information for each song. Updated liner notes complete the package.
---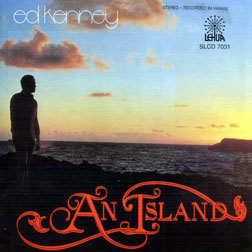 "An Island"
Ed Kenney
(Lehua)
From the mid-1950s to the mid-'70s, Ed Kenney was one of Hawaii's biggest and brightest stars. He performed on Broadway, was a Waikiki headliner and recorded the first and best version of "Numbah One Day Of Christmas." Yet few, if any, of his other recordings are available on CD. That makes this reissue of an obscure 1977 album notable.
Kenney's range and repertoire is heard in an assortment of Hawaiian standards, a beautiful rendition of "Hanalei Moon," several expansive pop songs and two comic numbers. "Talk Story," one of several selections written by Eaton "Bob" Magoon, uses the familiar pidgin phrase as a euphemism for sex. "Hula's Bar & Lei Stand" could have been the theme song for Magoon's popular night club but, ironically, Magoon didn't write it.
"Keleoaloha" showcases Kenney as a composer as well as a vocalist. Unfortunately, the anonymous producer of the reissue failed to update the original liner notes or provide any information about the songs, let alone a translation of Kenney's lyrics.
John Berger
, who has covered the local entertainment scene since 1972, writes reviews of recordings produced by Hawaii artists. See the Star-Bulletin's Today section on Fridays for the latest reviews. Reach John Berger at
jberger@starbulletin.com
.