Stadium finalizes parking for UH game
Aloha Stadium has announced parking arrangements before the University of Hawaii football home opener this weekend.
Stadium to get fix
The state will spend $11 million at Aloha Stadium to replace field lighting transformers and portions of the metal roof deck.

The project will change portions of the roof deck at sections FF to KK and RR to T, and cover the replacement and relocation of all roof-mounted field lighting transformers, Gov. Linda Lingle said in releasing the funds yesterday.

The work is scheduled to be completed in July.
Gates 3 and 4 to the lower Halawa lot, which accommodates about 1,500 vehicles, will open at 1:30 p.m. for the public, while all other parking gates will open at 2:30 p.m.
The UH Warriors will kick off the home season against Weber State at 6:05 p.m. Saturday.
All inner-circle parking remains reserved for university donors for the entire UH athletic season.
"We are pleased to have worked with the university on providing more parking for their Ahahui Koa Anuenue members," said stadium manager Scott Chan. "This partnership will help sustain UH athletics through donations to their scholarship program."
Disability stalls will be available in the inner circle as well.
"When the ADA stalls fill, we will redirect guests to an alternate site which provides ADA shuttle service to parking section 1-B for entrance into turnstile gate 4 for their convenience."
Centerplate will again host the Aloha Zone in the grass area near the upper Halawa lot. The Aloha Zone features entertainment, food and beverages.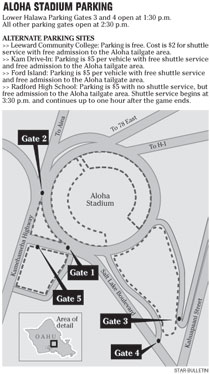 [ click image to enlarge ]