Apology fails to avert life sentence
The victim questions Guillermo Fernandez's sincerity in the trial for attempted murder
Cabdriver Guillermo Fernandez apologized in court yesterday to a former passenger for striking him with his car. Fernandez's wife and sister also apologized to victim Rodney Ryan Foth.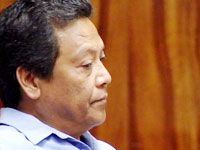 Guillermo Fernandez received life in prison with a possibility of parole after he tried to kill one of his customers with his cab last year.
The apologies did not matter as Circuit Judge Dexter Del Rosario handed Fernandez, 53, the mandatory sentence for second-degree attempted murder: life in prison with the possibility for parole.
An Oahu jury found Fernandez guilty May 16.
Foth, 30, does not believe Fernandez's apology was sincere.
"I ran into this gentleman a couple of months back at the gas station," he said. "He had a chance to say sorry to me. He didn't say sorry to me when we looked at each other eye to eye."
He said Fernandez even motioned to him as if he was challenging him to a fight.
At the time, Fernandez was free on bail.
Deputy Prosecutor Michelle Puu said Fernandez's letter to the court focused more on the effect of the jury's verdict on him than on accepting responsibility for his actions.
His lawyer, Todd Eddins, said Fernandez does admit wrongdoing but maintains he was not trying to kill Foth. At most, Fernandez was guilty of reckless conduct, he said.
Eddins said he may have made some bad trial decisions, including not putting Fernandez on the witness stand to tell his side of the story. But he thinks the jurors arrived at the wrong verdict.
"It's hard to believe the jury was in the same room as the evidence," he said.
Fernandez and Foth argued over a $2 tip June 29, 2007, after Fernandez dropped off Foth at the former CompUSA on Ala Moana Boulevard.
Foth paid with a $10 bill and Fernandez gave him $1 in change.
As Foth was walking away, witnesses told police Fernandez struck Foth three times with his cab and then fled.
Foth said he suffered injuries to his arms, legs, back, spine and neck. He also believes he sustained nerve and internal injuries.
He said he suffers post-traumatic stress and has nightmares about the incident.