Downturn batters isle businesses
Survey respondents report declining profits and the necessity to reduce work forces
STORY SUMMARY »
Hawaii businesses' optimism level for the state's economic future is the lowest in a decade, according to a survey released today by the Business Banking Council.
The state's business community, which posted second-quarter decreases in employment, gross revenue and profits before taxes, continues grappling with the effects of rising fuel and commodity costs, falling tourism and a faltering U.S. economy.
Nearly half of tourism-related businesses have seen a decline in gross revenue and profits, and nearly a quarter have reduced their work force.
---
FULL STORY »
Optimism for Hawaii's economy has fallen to its lowest level since 1998, and the outlook for the future remains bleak as the state's sluggish key visitor industry and a faltering national economy have taken their toll across industries.
Also, more businesses have reported that they have experienced a decline in gross income and in profits before taxes, and have elected to reduce their work force, according to a semiannual survey released today by the Business Banking Council.
These were clear signs in the survey that the business community is feeling the impact of the recent wave of economic stressors - including the departures of Aloha and ATA airlines - and rising fuel costs that are affecting the price of just about everything Hawaii residents purchase. Results of the survey, which focused this year on the state's visitor industry, were slated to be released today during a news conference at Embassy Suites in Waikiki.
The survey, conducted by QMark Research & Polling and sponsored by American Savings Bank, was based on 403 random interviews conducted from June 19 to July 2. It divided the businesses into groups based on size and equally weighted the answers. The survey results have a margin of error of plus or minus 5 percentage points.
While optimism among survey respondents has steadily declined since 2007, the reading fell to 81 during the second quarter of 2008. The reading, which was down 23 points from the first quarter of the year and 36 points from a year ago, was the lowest ever in the 10-year survey.
In the latest survey, 63 percent of businesses, the highest level in the 10-year survey, have said that they feel the economy will worsen in the next year. Only 10 percent of respondents said that they believe that the economy will improve next year.
Likewise, the performance index, which measures changes in employment, gross revenue and profit before taxes, slipped to 107. The performance index, which had fallen to its lowest point since 2003, was at 114 in the first quarter of 2008, and it was at 120 a year ago.
As businesses struggle with challenging economic times, survey respondents have reported that their gross income loss is climbing, and more of them have posted a decline in profits before taxes. Thirty-eight percent of survey respondents reported declines in gross income and in profits before taxes.
Of the businesses polled, 20 percent have reduced their work force during the past year. Sixty-five percent said staffing levels have remained unchanged during the past year, while only 15 percent actually increased their work force.
Gabe Lee, executive vice president for commercial markets at American Savings Bank, said that the slowing shift in the local economy will challenge businesses to fine-tune their operations. They will look for ways to conserve resources and find ways to work smarter - doing more with less, Lee said.
"Hawaii's businesses will be challenged to seek creative opportunities that will ultimately strengthen their position over the long term," he said.
Hawaii's visitor industry, which has been hard hit by economic turbulence, has experienced weaker profitability and more layoffs. Forty-nine percent of visitor industry respondents noted their profits before taxes had decreased, and 46 percent reported a decline in gross revenues. Twenty-two percent said that their work force decreased.
Although Hawaii's visitor industry survey respondents reported a lower performance index than overall businesses, this sector is more positive about its outlook for the future. They reported an optimism index of 95, 14 points higher than the overall survey respondents.
Members of Hawaii's visitor industry are optimistic that emerging markets, especially Korea and China, will bring a boost to Hawaii's visitor industry, said Dave Erdman, president and chief executive of PacRim Marketing Group.
"We believe strongly that this is a world-class destination, and we have a terrific product for the traveling consumer, particularly for the emerging Asian markets," Erdman said. "Our industry feels confident that the Korean and China markets have very good growth potential."
There also is hope that the recent round of investments in Hawaii's visitor industry will attract more higher-spending visitors who are typically less affected by the wavering economy, said Barbara Campbell, vice president of retail development and leasing for Outrigger Enterprises, a company that has spent millions revitalizing Waikiki.
"Outrigger is a 61-year-old company and we've seen many cycles," Campbell said. "We have a lot of investment here, and we are more optimistic and bullish about Waikiki than ever."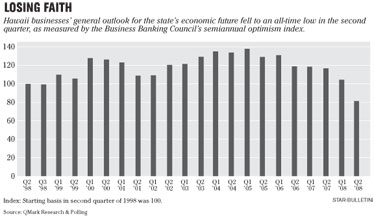 [ click image to enlarge ]