---
SWEEP SWEET FOR PEARL CITY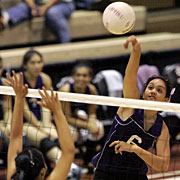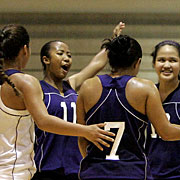 HAWAII
WAC, ESPN to expand coverage
The Western Athletic Conference's "Play Up" slogan will have a new meaning as of today when WAC officials announce an expanded partnership with ESPN.
The new contract is expected to more than triple the exposure for WAC basketball teams, including women's basketball for the first time.
While commissioner Karl Benson would not confirm details of today's announcement, "I think the men's basketball coaches will be very happy," he said last night. "And there is a women's component that we've never had."
The current six-year contract with ESPN was set to expire after the 2009-10 school year. It had guaranteed only three men's basketball broadcasts annually and had about 10 football broadcasts a season.
The new contract is expected to run through 2014, with an increase in rights fees as well as exposure. It is anticipated that football broadcasts could double in number and probably would mean more non-Saturday games.
Dumlao willing to give his all
Play through the pain.
Edieson Dumlao will do no less to get Leilehua back to the state football championship game.
The Mules' star receiver owned his share of big moments during his team's storybook run to the state title last year. He returned from a concussion to grab the only touchdown in Leilehua's Oahu Interscholastic Association semifinal win over Farrington, then snatched the go-ahead score in the OIA championship game over Waianae.
Then there's the Big One - the state title-winner from Andrew Manley with 36 seconds left in Leilehua's 20-16 shocker over Saint Louis.
To Dumlao, who has been hindered by hamstring and shoulder injuries this season, none of that matters now. New season, new expectations. » See story
Vulcans knock off No. 22 Broncos
The Hawaii-Hilo men's soccer team defeated No. 22 Cal Poly Pomona 1-0 yesterday at the Broncos' home field.
Drew Geis knocked in the winning goal in the 47th minute on an assist by Dustin Daley for the Vulcans (2-1), who beat the third-ranked team in the West Region.
UHH goalkeeper Ivan Mercado had six saves in a half between the posts.
Cal Poly Pomona fell to 1-1.