Isle delegate happy about Bush's speech via satellite
ST. PAUL, Minn. » Although Kathi Thomason would have preferred to see him in person, all things considered, she was just as happy to see President Bush address the Republican National Convention by videoconference last night.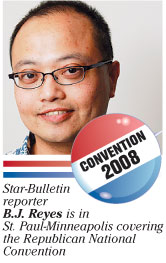 "I think the Gulf disaster takes high precedent over anything," said Thomason, former comptroller for Koolau Ranch who is attending this year's convention as a delegate from Hawaii.
"Americans first, above Republicans, that's the most important thing," she added. "What he's doing is absolutely the right thing to do. I would hope any leader would do that."
With the worst of Hurricane Gustav apparently behind them, delegates returned to the business of nominating U.S. Sen. John McCain and Alaska Gov. Sarah Palin as the GOP presidential ticket for 2008.
Delegates showed more enthusiasm than on the previous night, when the convention's opening was pared down due to concerns over those in the Gulf Coast in the path of Gustav.
Last night's schedule included a speech, by satellite link, from Bush at the White House, along with live speeches from actor and former Tennessee Sen. Fred Thompson and Democrat-turned-independent Sen. Joe Lieberman, the Democrats' vice presidential nominee eight years ago.
"We need a president and vice president who will take the federal bureaucracy by the scruff of the neck and give it a good shaking," Thompson said. "And we need a president who doesn't think that the protection of the unborn or a newly born baby is above his pay grade. The man who will be that president is John McCain."
The night also included a short set of introductions from former Hawaii political candidate Orson Swindle, a former cellmate of McCain's during their time as prisoners of war in Vietnam.
Swindle, who lost his 1996 bid to unseat U.S. Rep. Neil Abercrombie, whipped the crowd into the most spirited applause of the night as he introduced five Medal of Honor recipients and two dozen servicemen who also were prisoners of war. Those former POWs included Jerry Coffee of Aiea, a public speaker who also was in the infamous Hanoi Hilton with McCain.
The chant of "U.S.A." echoed throughout the Xcel Energy Center as the traditional celebratory mood of the convention began to show.