Family mourns fatal shooting
The victim's sister insists he was not involved with gangs
Khaynava Phanthanouvong was many things to his family - loving brother, dutiful son, straight-A student, busy video projectionist and an aspiring firefighter.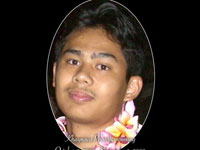 An autopsy has found that an 18 year old man who died in a fight at Ala Moana Beach park early yesterday morning, bled to death from a gunshot wound to the chest.
But he wasn't a gang member or a violent person, his family emphasized.
"He was simply a target," said Jade Powers, one of Phanthanouvong's five sisters. "He was only at the beginning of his life."
The family gathered at their Kalihi home yesterday to mourn the loss of the youngest son.
Police are still looking for a suspect in the fatal shooting of the 18-year-old, who returned to Hawaii from Texas in July.
"Those monsters took the most wonderful and loving person away from us," said Powers, trembling as she wiped away tears. "And we as a family demand that justice be served."
Phanthanouvong left his Kalihi home with four friends for a party Sunday night. Police said he agreed to meet another man for a fight at Ala Moana Park.
Police responded to a 2:40 a.m. call about shots fired at a large brawl in the park.
The argument involved two groups - one of 10 to 15 people, including the murder suspect, and the second including Phanthanouvong. Struck by two shots, he died at 2:50 a.m. at the Queen's Medical Center.
Patrol officers questioned four males involved in the brawl, but they were described as witnesses, not suspects. No arrests have been made.
The suspect is described as about 5 feet 4 inches tall, with a stocky build and wearing blue jeans and a light-colored T-shirt with a print on it.
Powers said her younger brother was not violent, and always "put others ahead of himself."
"He did anything and everything for his family and would not even let us raise a finger to even carry groceries," Powers said.
Powers and her husband, Javis, moved with Phanthanouvong to Texas five years ago after their father, Meksouvanh, died of liver cancer at the age of 49.
"I put him through school and took care of him since he was young," Powers said, holding hands with her sisters. "We not only lost a brother, we lost a wonderful son and a great friend to everyone."
Phanthanouvong worked with Javis Powers as an audiovisual projectionist. The three moved back to Hawaii to work in the trade, in demand at hotels.
Donations to the family can be made at Borthwick Mortuary and will go directly toward funding Phanthanouvong's funeral.
Phanthanouvong is survived by his mother, Bounlieng; brother, Sisouphanh; sisters Jade, Tyla, Chanthavilay, Inthava and Dolly; and five nieces and a nephew.