Second expert weighs in on Higa
A psychiatrist's report says the accused murderer is fit for trial
A second court-appointed expert has concluded that Matthew Higa was not legally insane when police say he threw a 23-month-old baby to his death from an H-1 freeway overpass this year.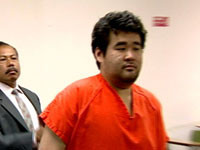 That's the finding of two experts who examined him, they say he has also changed his story about how little Cyrus Belt was killed.
Psychiatrist Martin Blinder said Higa suffered from a psychiatric disability because there is "no rational reason" for what he did. But Blinder said "there is insufficient clinical data to support an insanity defense."
Psychologist Stephen Gainsley, another expert on the three-member mental health panel, filed a report Friday that said Higa was not legally insane. The report from the third expert has not yet been filed.
In his three-page report made public yesterday, Blinder also concluded that Higa is fit to stand trial on the charge of murdering Cyrus Belt, who was thrown from the Miller Street overpass Jan. 17.
Higa knew about the criminal proceedings and had an adequate "general fund of knowledge," the psychiatrist said.
"Were he able to vote in November, he would cast his for John McCain," Blinder said.
In his three-page report, Blinder said Higa is "positively enthusiastic" about going to trial to prove his innocence, maintaining that a woman threw the baby from the overpass and left in a black car.
Blinder said Higa's insistence on the "improbable scenario" is not the result of lying, but an example of the mind coming up with an alternative scenario to fill gaps in memory caused by a mental disease or defect.
Gainsley reported last week that Higa suffered from a psychotic episode, but the cause was his use of crystal methamphetamine and not mental illness.
Gainsley said Higa maintained a woman told him to throw the baby from the overpass and the baby fell during a tussle, but the psychologist said the psychotic episode included hallucinations and delusions about the female.
He noted that a witness said Higa was alone when he threw the baby.
Deputy Prosecutor Rom Trader said yesterday he could not comment on the reports because the case is pending. Higa's lawyer, Randy Oyama, could not be reached for comment.
But the second report will likely make it even harder for Higa to prevail on the insanity defense.
Under state law, the defense must prove to a jury or judge that it is more likely than not that Higa suffered from a mental illness that impaired his ability to tell right from wrong or to conform his conduct to the law.
Circuit Judge Dexter Del Rosario has scheduled a hearing Sept. 10 on whether Higa is fit to stand trial - that he understands the criminal proceedings and can assist in his defense. If he is deemed fit, a trial date would be set.
If acquitted by reason of insanity, Higa would be committed to the Hawaii State Hospital until he is no longer mentally ill or dangerous. If convicted, he faces a mandatory life term without parole, the state's harshest sentence.