REPUBLICAN NATIONAL CONVENTION
Lingle will introduce Alaska's Palin today
Hawaii's governor is to bring on McCain's surprise running mate
ST. PAUL, Minn. » Hawaii Gov. Linda Lingle, whose regularly scheduled speech last night at the Republican National Convention was postponed, was to get the spotlight today to introduce Alaska Gov. Sarah Palin as the GOP's vice presidential nominee.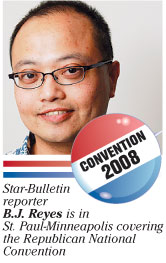 Lingle was set to deliver a 10-minute speech starting around 4:30 p.m. Hawaii time, her office said.
The convention program has been in flux since Monday, when the opening session was trimmed to just two hours in deference to the potential disaster looming from Hurricane Gustav in the Gulf of Mexico.
With the worst of the storm apparently over, Republicans have largely resumed the celebratory nature of nominating U.S. Sen. John McCain of Arizona and Palin as their presidential ticket for 2008.
Lingle was among a handful of speakers scheduled to speak last night on the theme of reform, but much of Monday night's program was melded into last night and the governor was asked to be "flexible."
Former New York Mayor Rudy Giuliani and former Massachusetts Gov. Mitt Romney, both presidential candidates earlier this year, also are expected to take the podium tonight.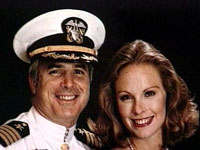 GOP hopeful Senator John McCain had many connection to Hawaii during the Vietnam War, but a romantic experience in Waikiki changed the course of his life.
Serving as one of the McCain campaign's surrogates, Lingle has spoken about her relationship with Palin and the similarities in their political life. Both started their careers as journalists before becoming mayors of small towns and ultimately governors of the only two non-contiguous U.S. states.
Lingle has told the story of how she was with Palin at a governor's meeting in Dallas in April when the Alaska governor, nine months pregnant with her fifth child, went in to labor and rushed home so that the baby could be born in her home state.
"This is no shrinking violet," Lingle told the Nevada and Guam delegations this week.
Rick Davis, McCain's campaign manager, said Palin's addition to the ticket last Friday translated into a $6 million boost in Internet campaign contributions over three days, contributing to an August haul of about $50 million overall.
"I know we were enthused about Senator McCain's candidacy," Lingle told the Hawaii delegation, "but when Sarah Palin's name got announced, it took things to a whole new level.
"People who had barely heard of her, people who had never met her, were excited by her story, by her experience, by her vision of the future for her state and for our country."