| | |
| --- | --- |
| | Newswatch |
---
Libraries schedule repair work
The state will spend more than $900,000 in reroofing and air-conditioner improvements at public libraries on Maui, Oahu and Lanai.
Most of the money, $400,000, will be used for new air conditioners at Kahului Public Library. The units should be installed in January 2010, Gov. Linda Lingle announced in a news release yesterday. Lanai Public and School Library is scheduled to receive $200,000 for air conditioners that should be installed in November 2009.
The state also will reroof Kahuku and Waimanalo public and school libraries at a cost of $310,000. The projects are set to be completed in October 2009.
HECO work to close road lanes
Hawaiian Electric Co. contractors are working near the Makaloa Substation near Makaloa and Amana streets for the next three months.
The utility says lanes may be closed and street parking will be restricted during construction hours.
The work will continue down Makaloa Street and finish near Makaloa and Poni streets.
Construction is scheduled between 8:30 a.m. and 3:30 p.m. and will not take place on weekends and holidays.
Special duty police officers will direct traffic.
Used bicycles on sale at UH
Cycle Manoa is selling used bicycles and giving away prizes Thursday and Friday at the University of Hawaii at Manoa.
In May, the group bought bikes from students leaving the campus at the end of the school year, and repaired and refurbished them over the summer. The bikes are being resold at prices that begin at the $15 transfer fee.
The event will be held from 11 a.m. to 5 p.m. Thursday at the Campus Center; and the same time Friday at the Sustainability Courtyard outside of Kuykendall Hall.
Members of Cycle Manoa and McCully Bike will be available to assist in fitting, accessorizing and to offer mechanical advice.
| | |
| --- | --- |
| | Police, Fire, Courts |
---
NEIGHBOR ISLANDS
Body found in car after fire is doused
A body was found after Hawaii County firefighters extinguished a car fire yesterday off Liloa Road in Laupahoehoe.
Bystanders tried to free the driver from the car and to put out the fire using a fire extinguisher.
Firefighters arrived at 11:53 a.m. to find the car fully engulfed in flames. The car fire and a fire in about 50 feet of brush along the road were extinguished.
Firefighters report the body was burned beyond recognition.
HONOLULU
Man's death due to natural causes
A 37-year-old man, who was hit by a baseball in the leg, collapsed while walking off a Honolulu baseball field during a game Monday and died.
The Medical Examiner's Office said Lester Falatea died of natural causes due to heart disease. He had atherosclerosis and an enlarged heart.
Police said the man collapsed about 9:25 p.m. after being hit in the leg, and was taken to a nearby hospital, where he was pronounced dead about an hour later at 10:20 p.m.
Missing swimmer's body found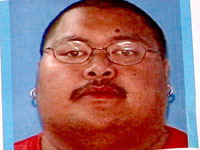 The man was swimming offshore of Nanakuli with some friends who were laying nets when he disappeared on Sunday.
The crew of a commercial vessel discovered the body of a missing 28-year-old swimmer 10 miles south of Kalaeloa yesterday morning.
The Medical Examiner's Office identified the man as Pele Kaio II of Waianae. An autopsy will be performed today to determine the cause of death.
The commercial boat known as Magic notified the Coast Guard about 10:55 a.m. yesterday.
A Coast Guard helicopter searching in another area was diverted to the location and hovered over the area until a Honolulu Fire Department helicopter arrived with a diver to retrieve the body. The helicopter brought it back to shore about 12:30 p.m.
About 11:30 p.m. Monday, the Fire Department responded to a call of a missing 28-year-old man, who was last seen on Black Rock Beach near Tracks Beach between Nanakuli and Kahe Point. The man was seen swimming in the area 6:30 p.m. Sunday, said Capt. Terry Seelig. Kaio had reportedly helped bring in a lay net and went swimming afterward.
Rescue crews searched for about 31/2 hours last night before resuming at 5:30 a.m. yesterday.