No report of abuse preceded killings
WAILUKU » Lanai residents say they are shocked at the murder-suicide of an island couple, especially after similar deaths two years ago.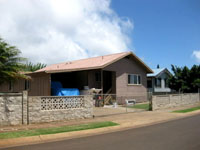 41-year-old Gerry Batoon shot and killed his estranged 31-year-old wife Kim just after noon Sunday before killing himself.
On an island of about 3,400 residents where shootings are rare, the deaths of 41-year-old Gerry Batoon and his estranged 31-year-old wife, Kim, have left many wondering what is happening on their rural island.
Maui police said a suicide note, believed to be written by the husband, and a .22-caliber rifle were found at the scene.
The bodies, each with a single gunshot wound, were found near the front entrance of their home at 441 Iliahi St. in Lanai City, shortly after police responded to the call of a possible shooting at 12:34 p.m. Sunday.
An initial investigation indicates Gerry Batoon shot his wife, who was moving out of their residence, then shot himself. Police said a witness reported hearing Kim Batoon yelling for someone to call the police, followed by gunshots.
"She was gathering out some things to leave," said Police Lt. John Jakubczak. There were five children living at the home, including a month-old baby and two kids from Gerry Batoon's first marriage.
None of the children were at home at the time of the killings, and they are being cared for by family members, Maui County officials said.
A Maui County news release said there are no reported cases of domestic abuse in the home. Gerry Batoon had one criminal conviction for a firearm charge in 1989.
Gerry's uncle Bergilio Batoon said he was surprised and has been unable to get information from the police or other family members because of the investigation.
"We don't know what's going on," he said.
Gerry Batoon was a maintenance worker at the Manele Bay Hotel, and his wife had done restaurant work for a time at the Lodge at Koele, a friend said.
This is Lanai's second murder-suicide in just more than two years.
In July 2006, 24-year-old John Kelly Etrata fatally shot his 15-year-old girlfriend, Ariel Aki, then killed himself.
Lori Villarreal, a domestic violence shelter worker with Child and Family Services on Oahu, said people need education about domestic violence. But Villarreal said in certain cultures, people are discouraged from discussing the issue publicly.
"When (we) hand them pamphlets about domestic violence, a lot of them shy away from it," she said.
Star-Bulletin reporter Rob Shikina contributed to this report.